Book Reviews Offer Praise and Reflections on "Public Service and Good Governance for the Twenty-First Century"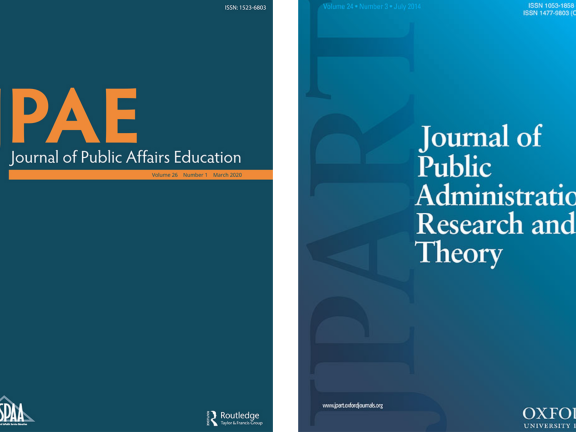 Released in May of 2020, Public Service and Good Governance for the Twenty-First Century continues to receive attention. Two reviews published recently in leading journals of public affairs and administration offer guidance on teaching and learning with the book and reflections on why its lessons are especially relevant for today's rising public leaders.
The book, assembled by the Volcker Alliance and published by the University of Pennsylvania Press, is a collection of essays from public service thought leaders. Its authors offer recommendations for developing public leaders through higher education, creating a federal civil service to meet future needs, and rebuilding bipartisanship to make the sweeping changes needed to restore good government. The book is edited by James L. Perry and contains a foreword written by Volcker Alliance founding chairman Paul A. Volcker before his passing in 2019.
In a review in the Journal of Public Affairs Education (JPAE), Dr. Amber Overholser, master of public administration program director from Southern Arkansas University, provided guidance for university professors incorporating Public Service and Good Governance for the Twenty-First Century into public affairs curriculum. Dr. Overholser states that the book is best suited for courses at the master or doctoral levels, and that though the book primarily focuses on the federal workforce, many of the lessons are generalizable for state and local government. The book, she states, could be a useful tool for "unifying courses around themes of professionalism, equity, and reform."
Dr. Overholser goes on to say:
"JPAE readers will appreciate the diversity within the chosen authors and discussions of curriculum needs, professional identity construction, leadership in the field and a balanced look at both challenges and opportunities that exist for public administrators. It is useful to find a book where articles connect throughout the text in meaningful ways; authors referencing each other and building upon each other's work on a range of topics including artificial intelligence, public disinvestment, and creating the next generation of public service leadership. The way in which this book is structured models the very recommendations for an improved public service.

Finally, this is a wonderful testament to Mr. Volcker, who passed away recently, a person whose work and spirit is threaded throughout the chapters. Thank you, Mr. Volcker, for your commitment to public service."
The second review, from Dr. Mary E. Guy of the University of Colorado Denver, was published in the Journal of Public Administration Research and Theory (JPART). Dr. Guy's review gives a thoughtful reflection on Paul Volcker's passion for public service and how his legacy shaped the book's content. She says:
"To cut to the chase, the book's recommendations are to reverse the trend of administrative disinvestment, use higher education to develop leadership talent, reshape the federal civil service to meet current and future needs, and rebuild bipartisanship so that majority approval of sweeping changes is possible. If these tasks were easy, the book would not be necessary. But they are hard, goals are elusive, reforms are contentious, the American political culture is riven, and usable theory is missing. So comes these experts' suggestions on how to proceed…

This volume is an example of keeping at it. It is about the people who lead, manage, and deliver public services and the challenges they face. The goal is to draw attention to the urgency of investing in human capital and in scholarship that advances public service. If the investment is made, then well delivered programs will result. That was Paul Volcker's faith, and it is reflected here."
The book is available for 20 percent off from Penn University Press. It is also available from Amazon, Barnes & Noble, and IndieBound.org.