Tribute to Richard Ravitch (1933-2023), Founding Board Member of the Volcker Alliance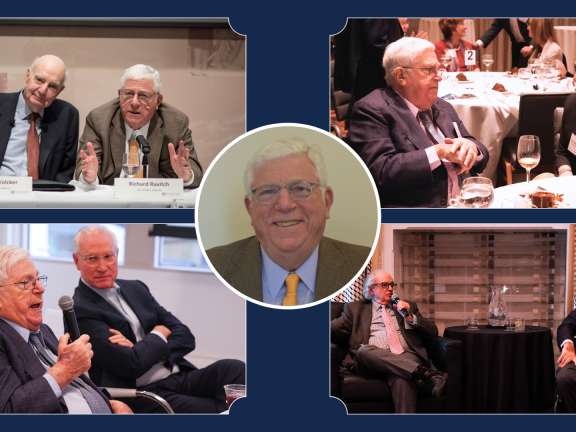 The Volcker Alliance Board of Directors and team were deeply saddened to learn of the passing of Dick Ravitch on June 25, 2023. Dick was an inspiring and deeply committed public servant, with a restless, lifelong track record of accomplishment in service of the greater good.
Dick was a dynamic and passionate champion of the Volcker Alliance. He was a founding Board member and a longtime friend and ally of Paul A. Volcker. Dick loved to tell the story of how he and Paul first met to discuss potential solutions to New York City's impending bankruptcy in 1975, while Dick was chairman of the New York State Urban Development Corporation and Paul had just been appointed President of the Federal Reserve Bank of New York.
From 2011 to 2014, Dick and Paul co-chaired the State Budget Crisis Task Force which examined the financial condition of six of the nation's most-populous states in the aftermath of the financial crisis. The work of the Task Force and Dick's passion for it inspired the Volcker Alliance's public finance portfolio, which has continued, under Dick's incisive guidance, to improve budget transparency and fiscal sustainability in states and localities nationwide.
In January 2023, the Volcker Alliance launched the Richard Ravitch Public Finance Initiative to catalyze federal action to improve state and local budget practices that present looming risks to the federal system and economy. Headed by Bill Glasgall, Senior Director of Public Finance, the Richard Ravitch Public Finance Initiative will continue to uphold Dick's tremendous legacy and unparalleled commitment to sound budgeting, transparent financing, and fiscal sustainability.
Read Dick's full obituary in the New York Times here and in The Wall Street Journal here.