Public Service and Good Governance for the Twenty-First Century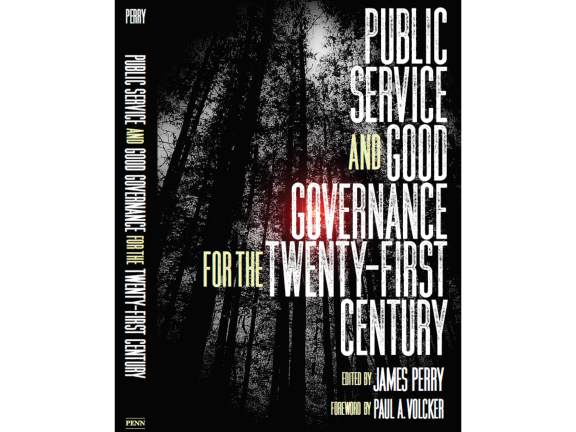 The engaging collection of essays from leading thinkers on effective government is available for purchase from Penn University Press. Enter promo code PP20 during checkout for a 20% discount.
The Volcker Alliance is excited to announce the publication of Public Service and Good Governance for the Twenty-First Century, to be released on May 1, 2020 by the University of Pennsylvania Press. The volume, edited by James L. Perry and assembled by the Volcker Alliance, is dedicated to the millions of public servants across America who serve our nation and uphold our democracy.
The need for effective government is clearer than ever, but the path to strengthening our public institutions and assuring the success of our common endeavors remains rocky. Contributors to Public Service and Good Governance for the Twenty-First Century raise and answer critical questions including: what is the state of government today? Can future disruptions of governance and public service be anticipated? What forms of government will emerge from the past and what institutions and structures will be needed to meet future challenges? And lastly, and perhaps most importantly, what knowledge, skills, and abilities will need to be fostered for tomorrow's civil servants to lead and execute effectively?
Public Service and Good Governance for the Twenty-First Century offers recommendations for bending the trajectories of governance capacity and reform expectations toward convergence, including reversing the trend of administrative disinvestment, developing talent for public leadership through higher education, creating a federal civil service to meet future needs, and rebuilding bipartisanship so that the sweeping changes needed to restore good government become possible.
In his Foreword, Paul A. Volcker distilled the challenges that the volume and our organization seek to meet:
Can our great republic maintain the sense of responsiveness, of efficiency, of integrity essential to maintaining trust and confidence in our government processes? Whether in the small towns like that in which I was born; in our national capital, where I spent most of my professional life; or in great urban centers like the one in which I now live, the challenge is enormous.

Are we paying enough attention to the need for educated, dedicated public servants who are committed, able, and willing to devote the energy and intelligence required? Do we have the right support systems and protections in place?

The Volcker Alliance stands for one central theme. A successful American democracy at home, equipped to continue the effort to establish a peaceful and prosperous global society, rests on the faithful and effective execution of government at every level.
Contributors to the Volume include: Sheila Bair, William W. Bradley, John J. DiIulio, Jr., Angela Evans, Francis Fukuyama, Donald F. Kettl, Ramayya Krishnan, Paul C. Light, Shelley Metzenbaum, Norman J. Ornstein, James L. Perry, Norma M. Riccucci, Paul R. Verkuil, and Paul A. Volcker.
The book is available for purchase online from Penn University Press. It is also available from Amazon, Barnes & Noble, and IndieBound.org.