Meet the Recipients of the Paul A. Volcker Government Internship Award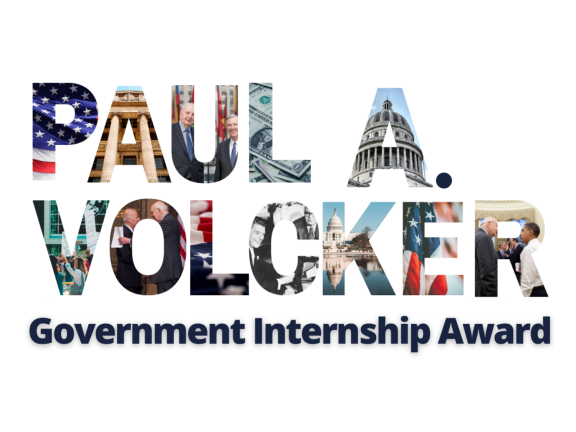 This spring, the Volcker Alliance launched the Paul A. Volcker Government Internship Award. As stewards of Mr. Volcker's legacy, we seek to inspire others with his story and champion his passion for public service in the next generation. We know that internships are critical to entering and advancing in careers, but they are often inaccessible due to being unpaid or low paying. Recognizing these systemic barriers, the Paul A. Volcker Government Internship Award provides financial support to open the door to rewarding opportunities in local, state, and federal government for selected students enrolled in NextGen Service programs across the country. We also aim to raise student awareness about the range of opportunities a career in public service offers, including mission, impact, job security, and pathways for career advancement.
The Volcker Alliance is delighted to announce the six inaugural recipients of the Paul A. Volcker Government Internship Award: Morgan Beaven, Mary deLacy, Tyler Haggerty, Nathan Jayanthan, Brianna Stinsman, and Eryka Warren. With the support of a $3,000 stipend, these students are pursuing their exploration of public service through a full-time summer internship and gaining vital skills to better serve their communities and nation.
For Georgia State University student Eryka Warren, public service has been foundational in her life. Her grandmother's leadership in her community taught her to "lead with your heart, instead of with an agenda," an ideal she carries into her internship with the National Women's Business Council. Less than a month into her internship, Warren said she's finding empowerment in her experience: "It's eye-opening, as a Black woman, to finally feel acknowledged…to feel like I can take up space without being shut down."
For Brianna Stinsman, Arizona State University alum, the award is supporting her work as an intern with the Congressional Research Service Foreign Affairs Defense and Trade Division/Asia Section. "Every day I am learning innovative open-source research techniques, collaborating directly with the most well-versed subject matter experts in the nation, and providing objective analysis on the security issues that are of immediate interest to the 117th United States Congress," she explained.
Nathan Jayanthan, a computer science major at Arizona State University, is spending the summer working with the computing team at the Lawrence Livermore National Laboratory. After spending the school year learning "real, applicable solutions," with his NextGen cohort, Jayanthan sees this as an opportunity to explore the structure and organizational styles of a government organization while honing his technical skills.
Tyler Haggerty is interning on Capitol Hill, in the office of House Majority Whip James Clyburn. A public policy and public service student at Arizona State University, Haggerty's background as a disability rights advocate put him on the path to a career in the public sector. As for his time on the Hill so far, Haggerty called the experience "surreal," explaining that "there's a weight to what we do here that is very tangibly felt."
Georgia State student, Mary deLacy, is spending the summer interning for the Social Action Alliance. A social work major, deLacy was drawn to the SAA because of the community: "everyone has different backgrounds, different strengths…but we all value equity and accessibility." Now, she's involved with how the SAA progresses, pitching different ways the program can get involved across campus and the community.
Morgan Beaven, a public service and public policy major at Arizona State University, serves as a communications intern for City of Phoenix Councilwoman Yassamin Ansari. Working in local government has been a lesson in patience and perseverance as Beaven learns to navigate complex and sometimes bureaucratic systems. The "fulfillment of being able [to help] others," however, keeps him motivated.
The Alliance is excited to support the first cohort of awardees as they continue down the path of public service.