Paul A. Volcker Government Internship Award
The objective of the Paul A. Volcker Government Internship Award is to open the door to careers in public service and help NextGen Service Corps students gain vital skills to better serve their communities and nation.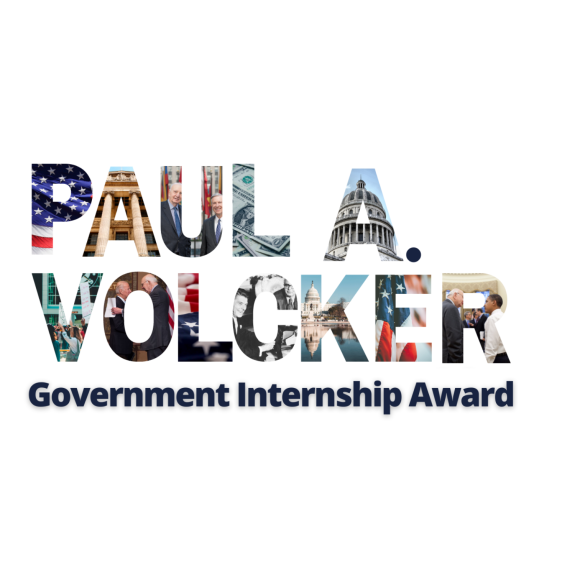 Spring 2023 Application Period is Now Open
The Paul A. Volcker Government Internship Award provides funding to NextGen Service Corps students participating in an internship with local, state, or federal government. Students secure their own unpaid or paid government internship and apply for funding. An award of $3,000 will be given to selected students. Students will be selected through an application and committee review process. The application period for spring 2023 is now open; we will select award recipients by January 18th.
Currently an enrolled undergraduate student at a NextGen Service member university and in good standing in a NextGen Service program, as verified by a phone call to program staff.
Anticipated graduation date of December 2023 or later.
Proof of a secured part-time spring internship in government at the local, state, or federal level. Students do not need to have an internship secured at the time of applying for the award.
Previous award recipients are eligible to apply but are required to submit different application materials. For more information login to your existing application account.
Click the link above or paste https://pavinternshipaward.awardsplatform.com/ into your browser.
2. Submit a video resume.
In no more than two minutes, tell us your story. Your video should include your full name, education, experience, skills, and anything else you would like to share with the selection committee.
3. Answer the essay question.
Your response must be between 300 to 500 words.
Essay Question:
After Paul A. Volcker's passing in 2019, former President Barack Obama expressed his appreciation and admiration for Mr. Volcker's extraordinary contributions to public service.
"Paul Volcker believed not just in the power of markets but in the corresponding power of the government's duty to make sure those markets work for everyone…I'll remember Paul for his consummate wisdom, untethered honesty, and a level of dignity that matched his towering stature. To me, he was the very definition of integrity."
What kind of leader do you aspire to be and why?
4. Answer one of the two short-response questions.
Your response must be no more than 300 words.
Short-response questions:
Option 1: Describe one positive change you would like to see in society and how government can play a role in supporting or driving this change.
Option 2: Public service is a high calling. Yet more than one-third of federal civilian employees are eligible for retirement in the next five years, and fewer than 6 percent of employees are under the age of 30. Local and state governments are experiencing similar workforce crises. What is one tangible way that government can help attract young talent into public service careers?
If selected for an award, students must provide proof of a secured part-time spring internship in government at the local, state, or federal level prior to receipt of monetary award. Upon completion of the internship, recipients will be required to submit a short, two-minute video of themselves describing their internship experience. Award recipients will also be asked to submit a form verifying completion of their internship.
Application Opens: Monday, December 12, 2022
Application Closes: Monday, January 9, 2022
Award Announcements: Wednesday, January 18, 2022
For tax purposes, a Paul A. Volcker Government Internship Award is considered taxable. US students must complete an IRS Form W-9 prior to award issuance and will be required to report it as taxable income at the end of the year.