Meet the 2019 Winners of the Paul A. Volcker Careers in Government Essay Contest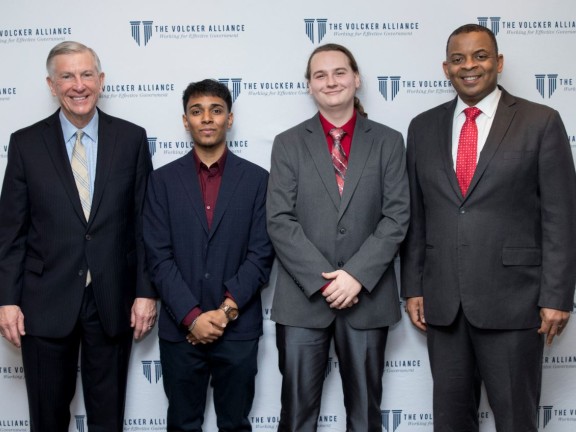 On Thursday, December 12, The Volcker Alliance and the City University of New York (CUNY) held an award ceremony celebrating inaugural winners and finalists of the Paul A. Volcker Careers in Government Essay Contest. The Volcker Alliance hosted this contest in partnership with the CUNY to recognize and support students who aspire to pursue careers in public service. The keynote speech at the ceremony was delivered by Anthony Foxx, Chief Policy Officer and Advisor to the Co-Founders of Lyft, former US Secretary of Transportation, and former Mayor of Charlotte, North Carolina. Several senior CUNY officials attended the ceremony as well, including Jose Luis Cruz, CUNY Executive Vice Chancellor and University Provost, who delivered an address on strengthening public service through higher education.
The two inaugural winners received:
$5,000 cash
A year-long, paid internship with a local government agency
A monthly unlimited MetroCard for the internship duration
An expense-paid trip to a public-service related conference.
The two winners of the 2019 Paul A. Volcker Careers in Government Essay Contest are Arslan Mohamed and Jason Waitkus. The finalists are Quymbee Chen, Maria Jacome, Stephanie Lovett, and Abdul Samed Walker.
Arslan Mohamed - Winner

About Arslan: Arslan Mohamed is a student in the Sophie Davis School of Biomedical Education B.S./M.D. program at the CUNY School of Medicine. He is majoring in biomedical sciences and plans to graduate in the spring of 2021. He is a native New Yorker, raised in Queens. Arslan started his college education at the Macaulay Honors College at Brooklyn College before transferring to the City College of New York in 2018. Arslan aspires to work at the intersection of public service and healthcare, and is fueled by his focus on advancing healthcare access and education for all. His goal is to become a healthcare leader in the public sector, in a role such as the New York City Health Commissioner or the Surgeon General of the United States.

Excerpts from Arslan's essay:

• Access, Community, Excellence—the vision statement of my school, the Sophie Davis School of Biomedical Education, and my guidelines for what public service truly means.
• In my goal to become a health officer on a governmental level, I have found that my passion for public service is largely inspired by my upbringing and my avid desire to maximize my impact as a physician and a leader. My father works for the United States federal government, my grandfather was a police officer, my grandmother was a public accountant for a social services organization, and all of my great-uncles were either prison guards or soldiers in our home country of Guyana. Growing up, I learned the value of civil service as meaning to work toward a mission larger than oneself and the power to maximize impact.
• In planning and working towards a better future, the ability to ensure an expansive and inclusive scope in policies, the proper training of government officials as liaisons with the public, and the courage to think outside the box are key aspects of effective government. In my pursuit of becoming a physician at the helm of a public service career, I intend to emulate these qualities through my work.
Jason Waitkus - Winner

About Jason: Jason Waitkus is a Macaulay Honors College Student at John Jay College of Criminal Justice, working towards a bachelor's in forensic psychology and a minor in criminology. During his time at John Jay, he developed a strong interest in criminal justice when participating in the Prison-to-College Pipeline, a program which allows him to take classes alongside incarcerated students who are working towards college degrees. Jason is also currently doing research in state prisons, surveying and interviewing correctional officers and prison chaplains to understand recruitment into white supremacy groups and the most effective measures that can be taken to counter it. As a John Jay student, he describes himself as "a fierce advocate for justice, dedicated to changing the way in which our criminal justice system works." Jason aspires to help individuals being released from prison during their reentry process in order to drastically reduce the recidivism rate and combat the system of mass incarcerations.

Excerpts from Jason's essay:

• Public service is working within a community in order to improve it…Whether by working as a police officer or volunteering at a non-profit, public servants have a desire to improve communities as a whole, which in turn allows them to improve the lives of individuals within each community.
• I once thought that good government is when the people I liked were voted into office, and the policies I supported were enacted. But as I watch what our government has become, with declining approval ratings for every branch of government at every level, and mistrust of government steadily increasing, I have realized what effective government is: compromise, and the admission that we could be better.
• Believing that one's ideals are supreme and certain policies are perfect does not allow for conversation or improvement because the truth is that nothing, including government, is ever finished….To be effective, government must be constantly working, interacting with the public to understand the public's needs and beliefs and conducting research in order to find solutions. Effective government must be filled with people who can listen, learn, and compromise, in both elected and appointed positions.