Paul A. Volcker Careers in Government Essay Contest
Effective government starts with YOU! The Volcker Alliance hosted this contest in partnership with CUNY to recognize students who aspire to pursue careers in public service. The essay contest is not currently open for submissions.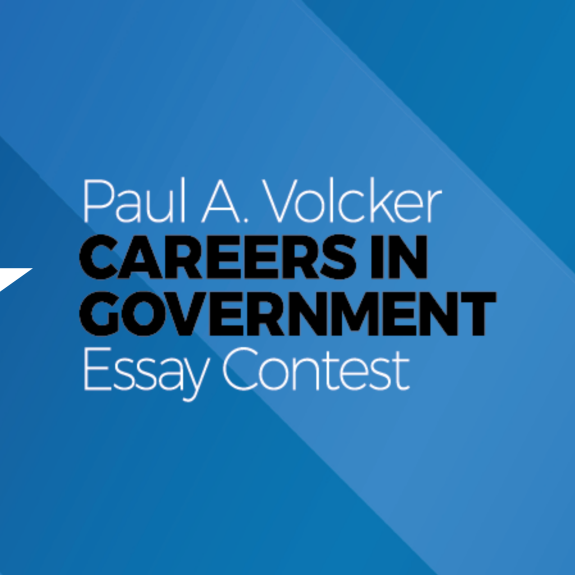 From left to right: Jungah Ahn (Winner), Alex Huaylinos (Finalist), Evana Said (Winner), Deana Yu (Finalist), and Doreen Ahumah (Finalist).
Congratulations to our 2020-21 winners and finalists! Read more about the winners and finalists here. 

The essay contest is not currently open for submissions.
Tell us about your public service career aspirations!
A central goal of the Paul A. Volcker Careers in Government Essay Contest is to better understand what motivates students to opt for a career in government. We also aim to raise student awareness about the opportunities that come with a career in public service, including mission, impact, job security, and pathways for career advancement.
Contest entrants must answer the following two essay questions (the response to each question may not exceed 500 words):
How do you define effective government? How have the historic events of 2020, such as the COVID-19 pandemic, international protests against racism, or the upcoming election, shaped your views of what effective government means?
Please describe your public service career aspirations. How would a career in public service allow you to have a meaningful impact on the issues that mean the most to you?
We will be looking for entries that are well organized, thoughtfully composed, and that present a compelling narrative about the values that drive your career aspirations. We want to understand how students are thinking about their potential contribution following graduation. We want to hear about students' vision of the public sector leaders they hope to become.
The questions above were written for the 2020-21 essay contest, and are subject to change for the 2022 contest. Please check back in January 2022 for updated questions.
Prizes
In January 2021, we selected two winners and three finalists.
Two winners each receive $5,000, and three finalists each receive $1,000. In addition, all winners and finalists receive one-on-one career coaching and support from CUNY and the Volcker Alliance including:
Support identifying and applying to government internship or job opportunities
Resume review
Interview practice and preparation
Networking assistance
How to Enter
The 2020-21 Paul A. Volcker Careers in Government Essay Contest is not currently open for submissions.
If you have any questions, please feel free to email us at essay@volckeralliance.org.  Please include "Essay Contest" in the email subject line.
Information Sessions
We held an virtual information session on Thursday, October 8, 2020, to provide details about the competition and discuss the potential and imperative of a career in public service. 
The information session featured Shirley Clarke Franklin, former mayor of Atlanta, Georgia, who reflected on her experiences as a public servant and why she believes it is more important than ever for young people to go into public service. Additionally, we featured one of the 2019 Essay Contest winners, Arslan Mohamed, who shared his insights on the contest and discussed his experience interning for a government agency after winning last year's contest. The event will concluded with a Q&A.
Attendance at the virtual information session was not required to enter the contest, but it offered an opportunity to learn more about this exceptional opportunity and engage with our impressive guest speakers about the potential and promise of a public service career.
We also hosted two virtual Q&As where students could drop in to ask any questions they had. The drop-in Q&As were held on Wednesday, October 14 at 3 p.m. EDT and Tuesday, October 20 at 12 p.m. EDT.