ASPA BookTalk: Public Service and Good Governance for the 21st Century
American Society for Public Administration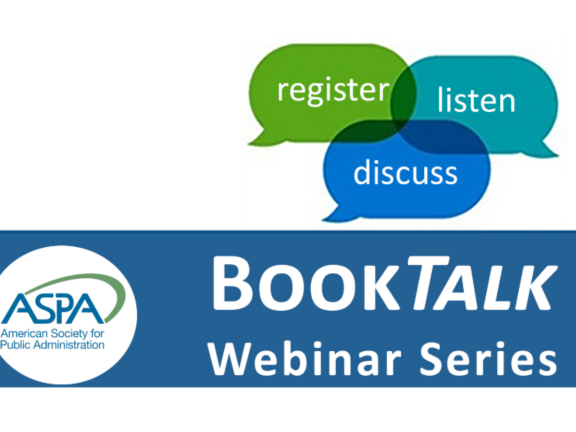 One June 3, 2020, the American Society for Public Administration's signature BookTalk webinar featured the recent publication by the University of Pennsylvania Press, Public Service and Good Governance for the Twenty-first Century. The ASPA BookTalk webinar series features the latest books on public affairs hot topics and includes lively conversations with the books' authors.
The BookTalk webinar covered two big ideas from the publication. The first is that America's governance system is broken and our capacity for effective governance is diminishing. The second is that a spirit of reform is ingrained in American political culture and citizen expectations for change are rising. The two big ideas at the book's core paint a worrisome picture: the diminishing capacity for effective governance and that American's expectations for reform are veering in opposite directions.
The publication brought together twelve thought leaders who each authored a different chapter offering readers insights about critical governance challenges facing the nation. The webinar was moderated by the book's editor, James L. Perry, Distinguished Professor Emeritus at the Paul H. O'Neill School of Public and Environmental Affairs, Indiana University, Bloomington. The webinar also featured three of the book's authors, who discussed the themes from their respective book chapters:
Sheila Bair, Former Chair of the Federal Deposit Insurance Corporation and Volcker Alliance Board Member, who discussed the benefits that technology can have on public policy and creating government systems that are safer, more secure, and more cost effective.
Don Kettl, Sid Richardson Professor at The University of Texas at Austin's LBJ School of Public Affairs and Volcker Alliance Nonresident Senior Fellow, who emphasized the importance of investing in the government we need to ensure that we achieve the government we want.
Angela Evans, Dean of The University of Texas at Austin's LBJ School, who spoke about the role that schools of public service play in advancing government effectiveness and the need for these schools to update their curriculum to better meet the demands of the times.
Public Service and Good Governance for the Twenty-first Century was inspired by the Volcker at 90 Symposium, held in honor of the ninetieth birthday of Paul A. Volcker, founding chairman of the Volcker Alliance. The book offers valuable insights for closing the gap between capacity and expectations and navigating pathways to reform. The publication gives recommendations for developing public leaders through higher education, creating a federal civil service to meet future needs, and rebuilding bipartisanship to make the sweeping changes needed to restore good government.