A Message from the Volcker Alliance President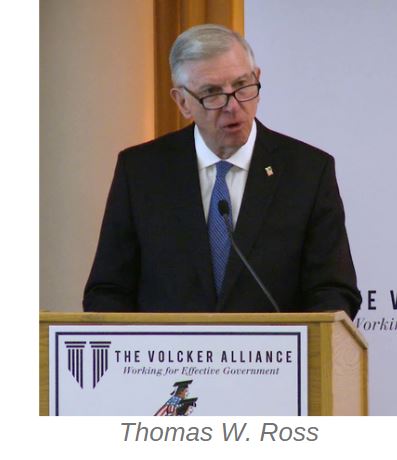 2019 was a significant year in the history of the Volcker Alliance.
In December 2019, Volcker Alliance founder Paul A. Volcker passed away at the age of 92. Tributes poured in from around the world celebrating Mr. Volcker's extraordinary public service legacy. US presidents and other world leaders, leaders of the Federal Reserve, economists, scholars, business leaders, and public servants wrote to the Volcker Alliance to express their admiration and appreciation for Mr. Volcker's life work and the integrity he singularly personified. Our team mourned. We also felt the weight of Mr. Volcker's legacy in the best possible way: inspiration.
Earlier in the year, the Volcker Alliance received an email informing us that Justine Rodriguez Kilpatrick had passed away and that she named the Volcker Alliance a beneficiary of her estate. Ms. Kilpatrick had worked with Mr. Volcker at Chase Manhattan Bank nearly sixty years before her death and spent most of her career in the federal civil service. We were overwhelmed when we learned that her gift exceeded $10 million.
Mr. Volcker was deeply moved by Ms. Kilpatrick's generosity. To him, her gift validated the importance of the Volcker Alliance's mission and confirmed that our work truly matters. In the final months of his life, her support for the Volcker Alliance raised Mr. Volcker's spirits immensely.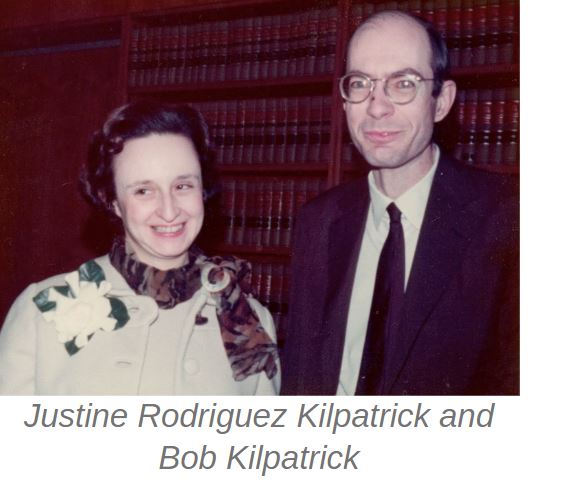 Ms. Kilpatrick's gift compelled us to ask: Who was Justine Rodriguez Kilpatrick, and what moved her to choose the Volcker Alliance as a recipient of her final gift? Interviews with her colleagues, family, and friends from over the course of Ms. Kilpatrick's 83 years painted a picture of a dedicated public servant and a pioneering female economist for the federal government.
After working a few years at Chase Manhattan, Ms. Kilpatrick—still a young professional—left to work in the public sector because she wanted to make a difference. She moved to Washington, DC, to join the Department of Health, Education, and Welfare, and then transferred to the Office of Management and Budget, where she stayed for over thirty years and where she met her husband, Bob Kilpatrick, who shared her devotion to public service. Just as she had hoped, through her work, Ms. Kilpatrick had a tangible, positive impact on people's lives.
As a public servant, she had a hand in writing policy that started a health care system for migrant farmworkers, defended the necessity of the Department of Education, and guaranteed civil rights and education for non-English-speaking students. Over the course of her career, she developed a strong conviction that an effective government should be held accountable to the public for the results it achieves.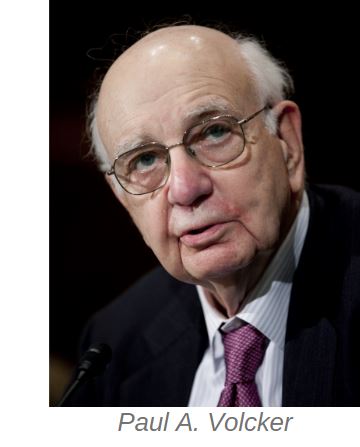 The loss of Mr. Volcker and the generosity of Ms. Kilpatrick vitalized our work in 2019 and strengthened our commitment to our mission to advance effective management of government to achieve results that matter to citizens. Like Mr. Volcker and Ms. Kilpatrick, we envision a public sector workforce with the experience, preparation, and commitment to ensure that government is accountable and delivers with excellence. We will not let them down.
The jarring experience of the coronavirus pandemic and the international outrage over the horrific killings of George Floyd, Breonna Taylor, and other Black Americans at the hands of police have made clear that the survival and security of people everywhere depend on government. The success of our response to this remarkable period in our nation's history hinges in large part on the talent, preparedness, and dedication of our government workforce. As such, the mission of the Volcker Alliance has been thrust to the forefront.
We are proud and humbled to be a part of the Volcker Alliance at this critical time. We remain dedicated to Mr. Volcker's vision and inspired by his legacy. Thank you for your continued support and interest in our organization.
Sincerely,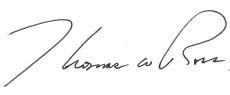 Thomas W. Ross, President
We are better positioned now than we have been since our founding to make the changes Mr. Volcker cared about so profoundly. We are building the talent pipeline into government, catalyzing innovation in public service education, promoting truth and integrity in state budgeting, and honoring the legacy of Paul A. Volcker by inspiring the next generation of public servants. Click the boxes below to learn more.

Board of Directors and Advisers
Senator Bill Bradley, Chairman of the Board of Directors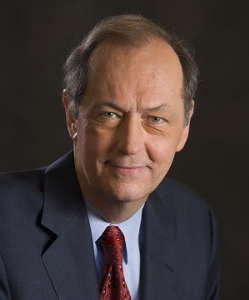 In December 2019, the board of directors of the Volcker Alliance elected Bill Bradley chairman. Mr. Bradley had served as vice chair of the board during the last few years of Mr. Volcker's tenure as chair. Mr. Bradley and Mr. Volcker shared not only great height but also long and illustrious records of public service. Mr. Bradley served three terms as a US Senator from New Jersey and is widely known for his legendary career in basketball with the New York Knicks. In 2019, he featured Mr. Volcker in a terrific interview on his weekly radio show, American Voices on Sirius/XM Radio.
"Paul was the quintessential public servant, blessed with courage and great competence and possessed of an unshakeable integrity. He worked for six presidents, and he never hesitated to speak truth to power—whether it was politicians or bankers."
Excerpted from Bill Bradley's eulogy of Paul A. Volcker, delivered in December 2019
Bill Bradley, Chairman
Thomas W. Ross, President
Anthony J. Dowd, Treasurer
Sheila C. Bair
Charles Bowsher
Thomas M. Davis
William H. Donaldson
Anthony Foxx
Shirley Clarke Franklin
Francis Fukuyama
Bill Haslam
Stephanie Miner
Norman J. Ornstein
Richard Ravitch
William Rhodes
Antonio Weiss
Sandra Archibald
Katherine Barrett and Richard Greene
Dustin Brown
Donald F. Kettl
Paul C. Light
Jennifer Pahlka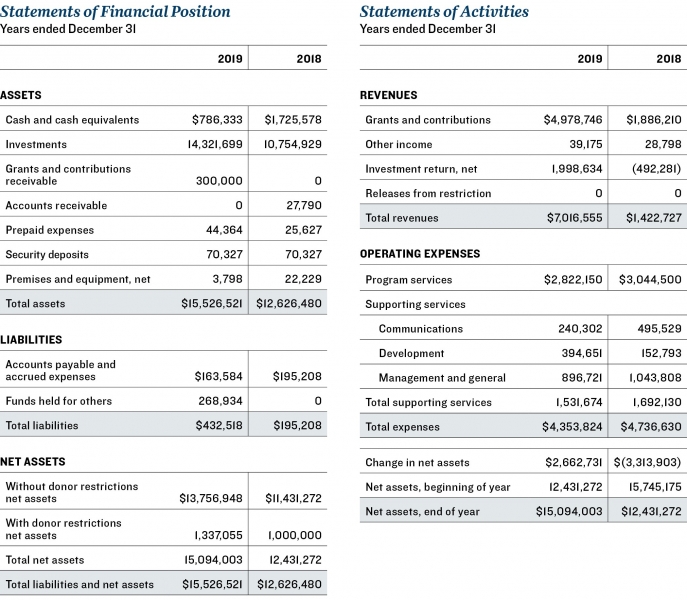 We gratefully acknowledge the following foundations and individuals, whose generosity and commitment to our mission made it possible to launch the Volcker Alliance in 2013 and continue to help us advance our mission.*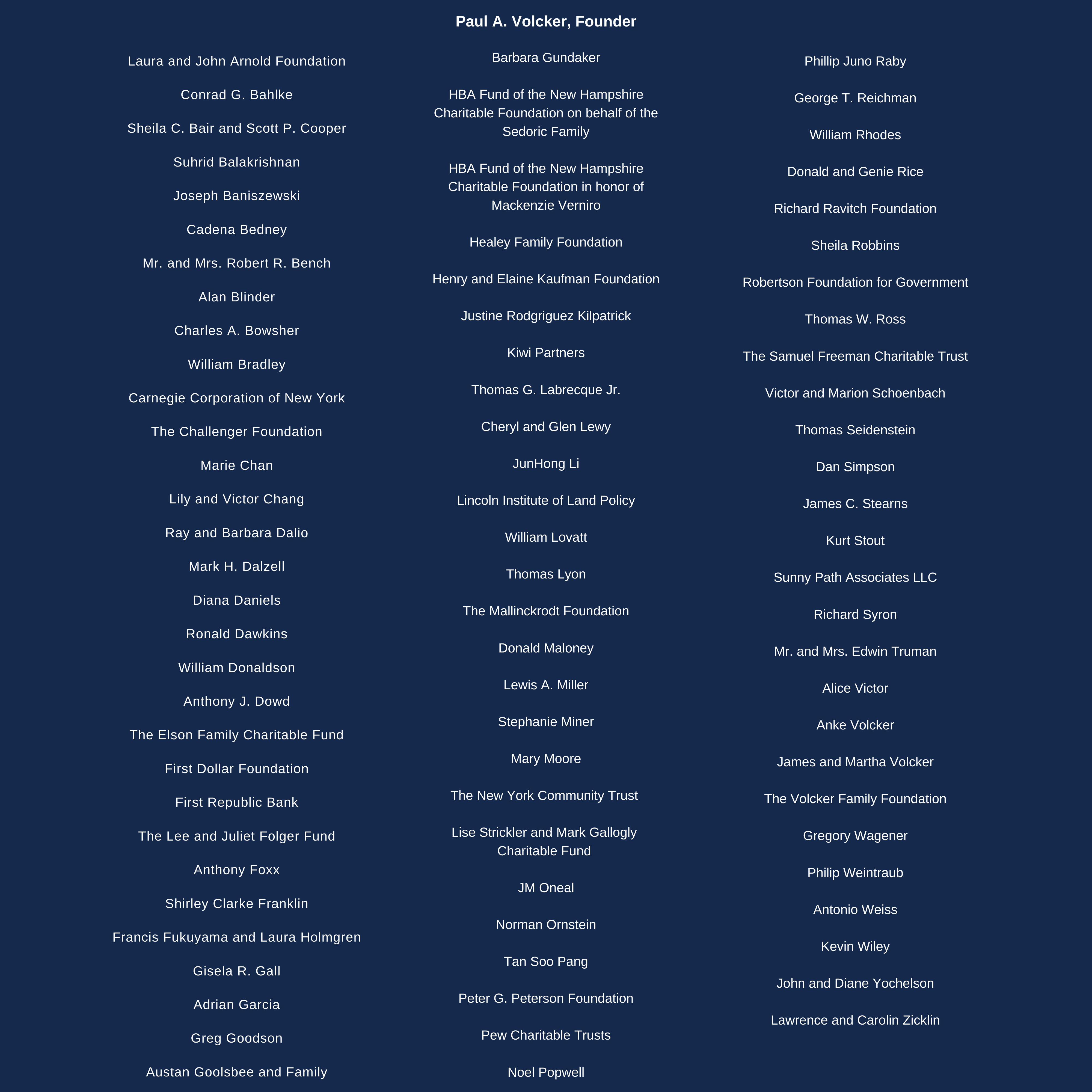 * Donor report reflects support received through December 2019.



First row (left to right): Thomas W. Ross (President), Melissa Austin, Maya Corrin, William Glasgall, Naomi Major, Yesenia Martinez, and Maggie Mello.
Second row (left to right): Sara Mogulescu, Sarah Morningred, Peter Morrissey, Christopher Reed, Neilia Stephens, and Noah Winn-Ritzenberg. Not pictured: Emily Bolton.
Melanie Martha, Maureen McCarthy, and Gaurav Vasisht left the organization prior to the publication of this report.

Download Printable Annual Report
Designer: Don Besom. Copy editor: Michele Arboit. Cover illustration: Robert Neubecker. Photos courtesy of: Ralph Alswang, Albert Cheung, KS Photography, Federal Reserve Bank of Atlanta, Mid-America Regional Council, and the Partnership for Public Service.