Yale Publishes Unreleased Interview with Paul A. Volcker
Yale Program on Financial Stability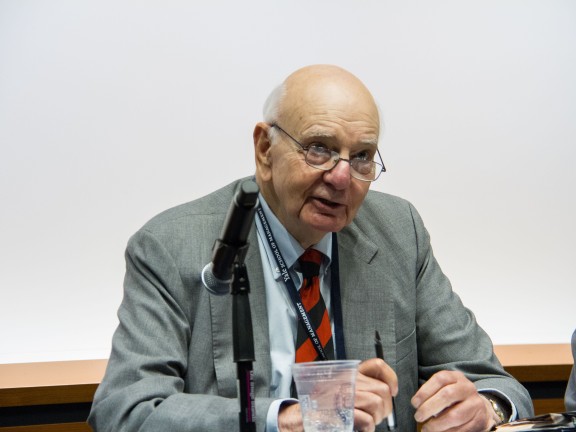 On March 26, 2019, Andrew Metrick, the Janet L. Yellen Professor of Finance and Management at the Yale School of Management and Founder and Director of the Yale Program on Financial Stability, sat down with Paul A. Volcker for a wide-ranging interview. It turned out to be one of the last interviews given by the former Chairman of the Federal Reserve System, who passed away on December 8, 2019, at the age of 92.
The interview, published in the Yale Program on Financial Stability's online Journal of Financial Crises as part of its Lessons Learned series, captures Chairman Volcker reflecting on his storied career in public service and private banking, examining the changing responsibilities of the Federal Reserve, and discussing the role regulation should play in domestic and international banking. The lessons he imparts are incredibly timely, as municipalities, states, and the federal government grapple with the fiscal impacts of COVID-19. Facing the biggest economic downturn since the Great Depression, public servants are simultaneously charged with finding solutions to the ongoing economic and health crises while determining how to construct a more accountable and effective government that better serves its constituents. As the United States confronts an uncertain future, Mr. Volcker's reflections offer lessons on how to build more stable financial institutions that offer better protections for Americans.
The interview can be read in this issue of the Journal of Financial Crises available online.
(Photo Credit: Ben Mattison/Yale School of Management)