Volcker Alliance Spotlight: US Census Bureau Director Steven D. Dillingham on Why Every Person Counts
The Volcker Alliance and US Census Bureau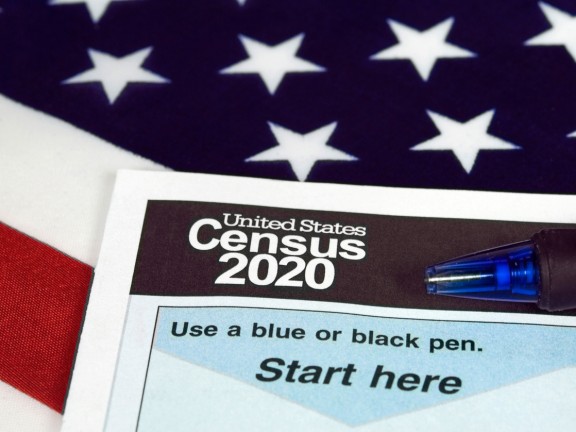 Spotlight: The Honorable Steven D. Dillingham, Ph.D.
Director, United States Census Bureau
The Volcker Alliance is excited to announce that we are partnering with the US Census Bureau to support the 2020 Census. The Decennial Census is one of the Bureau's principal projects and is a pillar of our democracy, critical to ensuring that the people of the United States are properly counted and represented, and that federal funds are distributed purposefully and fairly as population shifts over time. Obtaining an accurate census count is a formidable challenge, so as a partner, we will be supporting the Bureau how we can to make sure our communities are correctly represented in the upcoming 2020 count.
In this Volcker Alliance Spotlight, we are lucky to hear from Dr. Steven Dillingham, who was sworn in as the twenty-fifth Census Bureau Director on January 7, 2019. Dillingham has more than twenty-five years of statistical, research, senior management, and legal experience in the federal government. Dillingham previously served as director of the Bureau of Justice Statistics and the Bureau of Transportation Statistics. In this Spotlight, Dillingham shares his motivations for entering a career in public service, gives insight on the importance of the 2020 Census, and dispels a few myths about Census participation.
Working at the Census Bureau is not the first government job you've had. What originally attracted you to a career in public service?
Public service is vital to my family and to me. My wife has been a part-time social worker and public school teacher. Her mother was also a schoolteacher. My daughter is a public school teacher. My father entered military service at age 17 during World War II and retired from the enlisted ranks more than two decades later. He named his three sons for military leaders he served during two wars. My father-in-law retired as a Lt. General following his distinguished career of more than three decades as a leading defense strategist and analyst. The Air Force annually bestows a prestigious leadership award in his honor. In our household, public service is a noble family tradition.
What attracted you to working with the Census Bureau, specifically?
The U.S. Census Bureau is the principal federal statistical agency. It is the third federal statistical agency that I have directed. The Census Bureau is the global leader in the collection and production of high-quality statistical information. We honor privacy, protect confidentiality, share our expertise globally, and conduct our work openly. I wake up every morning eager for the challenge of conducting the 2020 Census, while modernizing the way we collect data for use in evidence-based policymaking.
Why do you believe the work of the Census Bureau is so important?
The work we do at the Census Bureau has a direct impact on people's lives. We have been gearing up for the 2020 Census, which is a count of everyone living in the United States that is mandated by the Constitution and conducted once every 10 years. In January, we begin the count in remote Alaska, and I will have the honor of traveling to the remote Alaskan village of Toksook Bay and personally conducting the first count.
The results of the census will be used by businesses, researchers, and communities to make critical decisions—such as locations for new fire departments, schools, and roads. Billions of dollars are distributed to communities nationwide based on the results of the census. Census data also affects our representation in Congress and in state and local government. In addition, it helps businesses decide where to open new stores, where to expand operations, and which products and services to offer.
The Census Bureau conducts more than a hundred surveys of households and businesses across the nation each year. These surveys produce a wide range of statistics about the population of our country, states, and communities that inform far-reaching decisions.
Are there any special messages you wish to convey to the public about this year's census?
Yes! We are hiring at 2020census.gov/jobs. We are looking for people interested in making extra money in early 2020 with a high-paying, temporary part-time job with flexible hours. Paid training begins in March and work will generally fall between May and July.
We also want people to know that the 2020 Census is easy, safe, and important, and your community is counting on you to participate. Maximizing public participation fosters a complete and accurate count.
Responding is easier than ever. For the first time, you can choose to respond to the census online or by phone beginning in mid-March. You can certainly respond by mail if you choose. New tools and technology are making it easier than ever before to reach traditionally hard-to-count communities.
Your answers are secure and protected. We take strong precautions to keep your responses safe from hacking and other cyber threats. The Census Bureau is bound by law to protect your answers and keep them strictly confidential. Every employee takes a lifetime oath to protect your personal information.
What are some ways that interested individuals or organizations can help the Census Bureau to complete the census this year?
There are several ways, big and small, to get involved in the 2020 Census.
We partner with national and local organizations to ensure everyone is counted. Our partners are trusted voices that help encourage participation in the census, particularly among hard-to-count groups. You can learn more about partnering with us at 2020census.gov/partners.
Spread the word about census jobs! Help us encourage potential applicants to visit 2020census.gov/jobs to learn more and apply.
At the community level, you can join a local Complete Count Committee and enlist your friends and neighbors to spread the word about the importance of census participation. Use your social media accounts, email lists, and websites to share our outreach materials and resources.
Many 2020 Census partners, including libraries across the country, will also make electronic devices such as computers and tablets available to the public for online response. Find guidance on how to make devices available to the public for response on our website.
What are some common myths about the census that you've encountered while working for government? How do you respond to them?
We know misinformation and disinformation about the 2020 Census is out there, and we're working with our partners—including technology and media leaders such as Facebook, Google, Microsoft, Nextdoor, Twitter and others—to combat it and educate people about the census every step of the way. We've launched a page on our website, Fighting 2020 Census Rumors, to help set the record straight and encourage people to report rumors by contacting us at rumors@census.gov.
Here are a few examples…
We're often asked if census data can be shared with law enforcement and used against respondents. The answer is no. The law prevents the Census Bureau from sharing personal information with law enforcement. Census responses are only used to create statistics about our country. The Census Bureau is bound by Title 13 of the U.S. Code to protect personal information and keep it strictly confidential.
We're also asked if people can only complete the census online. The answer is no. The 2020 Census will be available online, by phone, and by mail. Everyone can respond however is most convenient for them. Online and phone responses can be completed in 13 languages, and a paper form will be mailed to every household that hasn't responded by the time we send our fourth mail piece out.
We have a Trust & Safety Team monitoring misinformation and disinformation, and we will continue to post updates on our website to set the record straight.