Volcker Alliance Promotes Innovation in Public Service Education at NASPAA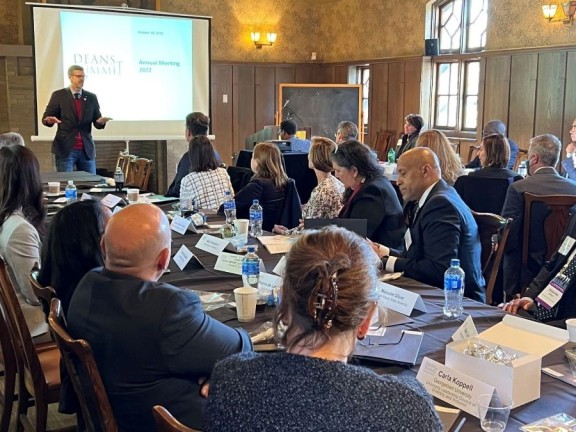 The Volcker Alliance was deeply engaged in the NASPAA annual conference in Chicago. Sara Mogulescu, president of the Volcker Alliance, gave the conference's keynote speech. She called on the audience of schools of public service to honor Mr. Volcker's legacy by collaborating and innovating to meet the challenges facing public administration. Sara recommended that schools of public service channel their energies to advance four collective priorities: (1) advancing diversity proactively and emphatically; (2) elevating and protecting core democratic values; (3) cultivating a national culture of service; and (4) meaningfully pursuing civic engagement. Sara applauded schools for leading the way on these priorities, reminding them that the Volcker Alliance and NASPAA are key partners in their efforts.

The Volcker Alliance hosted two key events during the conference: the annual Deans Summit meeting and the Future Leaders of Schools of Public Service launch reception. The Deans Summit, generously hosted by the University of Illinois Chicago, convened over 35 deans and directors of NASPAA schools to reflect on new paths forward for the field of public service education. Members shared progress from the previous year and brainstormed new activities, outputs, and goals for 2023. Read more about the Deans Summit's 2023 working groups here.

The Volcker Alliance officially launched the Future Leaders of Schools of Public Service initiative, in conjunction with the NASPAA conference. The Future Leaders of Schools of Public Service program aims to create more racially and ethnically diverse leadership in schools of public service. Read more about this innovative program here.

Sara moderated a panel at NASPAA, "Diversifying Leadership in Our Schools of Public Service: A Collaborative and Data-based Approach." Panelists shared insights into the current demographic composition of leaders of schools of public service and shared ongoing efforts to address structural racism head-on. Yesenia Martinez, program manager, moderated the panel, "The Next Generation Service Corps: A National Service Model for Undergraduates." The panel featured the perspectives of school leaders at various stages of NextGen Service program development. Panelists made the case for developing undergraduate public service curricula.