"Government Geek": Dr. Angel Wright-Lanier on the Power of Mentorships and the Future of NASPAA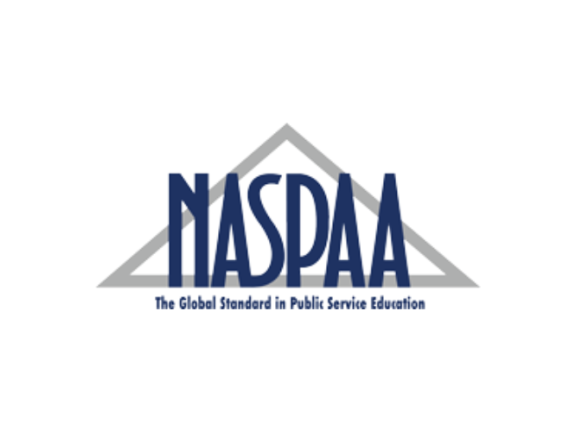 On July 26, 2021, the Network of Schools of Public Policy, Affairs, and Administration (NASPAA) announced that Dr. Angel Wright-Lanier would serve as the organization's next Executive Director. NASPAA's mission is to ensure excellence in education and training for public service and promote the ideal of public service. A lifelong public servant with a background in city management, Dr. Wright-Lanier brings a practical, collaborative approach to the role.
Her journey is evidence of the power of mentorships. A few years into her career, Dr. Wright-Lanier traded her job managing the City of Raleigh's Finance and Utility Billing Call Center for a position in the city manager's office. Russell Allen, Raleigh's city manager, was pivotal in launching her career in management and fostering her appreciation of all things government. "I had no experience in intergovernmental relations, but [Allen] allowed me to prove that I could do it," she recounted, "The rest is history."
The self-proclaimed "government geek" filled management roles at over four municipalities, working her way up to assistant city/county manager for communities with populations as large as 342,000. For Dr. Wright-Lanier, helping to manage a city was much more than a paycheck. "It was fascinating to see the work of local government," she told me, "I remember when I went to the county, I was so excited because I had the opportunity to manage solid waste. The other department I was excited about was the airport. I was like, 'I am the assistant city manager responsible for the airport!'" Over her career, she managed 20 different city and county departments covering areas such as public transportation, finance, community and economic development, and information technology.
For Dr. Wright-Lanier, shifting to higher education is a natural step toward achieving her long-term goal of positively influencing the next generation of public servants. As she sees it, public service has a marketing problem. NASPAA might have the solution.
Despite being raised in a home in which keeping up with current events was expected, Dr. Wright-Lanier hadn't heard of a Master's in Public Administration until after receiving her undergraduate degree. Now, she's determined to make sure that young people know that attending a school of public service is not just an option but a pathway to a fruitful and rewarding career.
Marketing public service education is more than ensuring students are aware of every opportunity–increasing the number of young people in the public sector is key to strengthening our democracy. In 2020, public trust in government fell to a record low, from which it has not recovered. In Dr. Wright-Lanier's eyes, a massive public awareness campaign is in order, and it's okay to make it personal. "Democracy is important," she told me, "We need to tell [students] why. Break it down for folks. What does democracy mean? You should talk about our freedoms and how important those are. What would you be losing if we didn't have democracy?"
Dr. Wright-Lanier has big dreams for NASPAA. She plans to strengthen connections with historically Black colleges and universities, other minority-serving institutions, and NASPAA's network abroad. A strategic plan is already in the works. And on a personal level, she wants to see a government that reflects the people that it serves. She hopes to work with partners to establish a program to recruit people of color at all government levels and ensure that a culture of diversity permeates the field.
Between her passion for educating the next generation of public servants and her capable, can-do attitude, Dr. Wright-Lanier will use her experience as a public servant to provide a practical perspective to the academic sphere. Better yet, she's ready for the challenge: "I'm excited about everything I'm working on. I've got a lot on my plate, but I've got some great partners, and my staff is awesome. I'm doing what I think I should be doing—what I'm meant to be doing."