Finalists Announced for the 2021 Paul A. Volcker Career Achievement Medal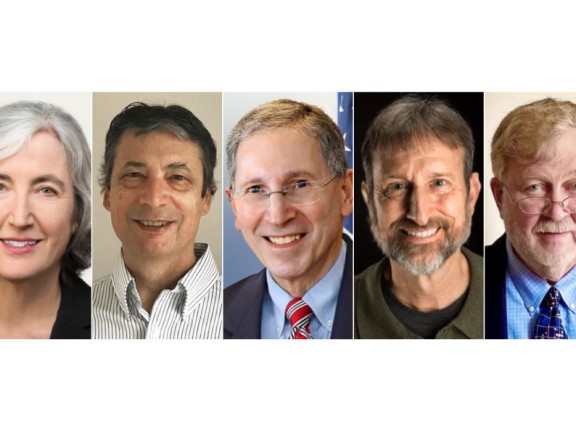 The Partnership for Public Service has announced the finalists for the 2021 Paul A. Volcker Career Achievement Medal, presented to one recipient annually as part of the Samuel J. Heyman Service to America Medals ("the Sammies"). The Sammies, also known as the "Oscars of government service," are a set of prestigious awards given to federal employees who demonstrate extraordinary excellence, innovation, and impact.
The Paul A. Volcker Career Achievement Medal, supported by Ray and Barbara Dalio, was established in 2019 in honor of the chairman and founder of the Volcker Alliance, Paul Volcker. The Paul A. Volcker Career in Government Achievement Medal is given to a person based on demonstrated leadership, the significance and impact of their accomplishments, how well they foster innovation, and the extent to which they exemplify excellence in public service over a career of at least twenty years in federal government. There are five finalists in the running for the 2021 Paul A. Volcker Career Achievement Medal:
Dr. Mark Eakin of the National Oceanic and Atmospheric Administration led the development of a satellite-based monitoring system that provides accurate forecasts and early warnings to environmental officials worldwide at a time when rising ocean temperatures threaten the health of coral reefs. He has worked with nations big and small, from Australia to island states in the Caribbean and the Pacific Ocean, to understand their concerns and provide the information needed to better protect coral reefs.
Paul Friday's career at the Census Bureau has spanned six decades. Mr. Friday designed and implemented computer systems that capture handwritten information on census forms and turn it into data. His innovations radically sped tabulation of the decennial population count with great accuracy and at a far lower cost. Mr. Friday's scientific inventions have saved millions of dollars and increased the speed and accuracy of the Census count dramatically.
Dr. Evan R. Kwerel pioneered the use of competitive spectrum auctions to allocate the public airwaves for sound, data, and video transmissions, which helped fuel the digital revolution while simultaneously adding more than 200 billion dollars to the government's coffers. During his more than three decades as a Federal Communications Commission economist, Dr. Kwerel has been a key driver of America's wireless revolution.
Dr. Gregory M. Ruiz, senior research scientist at the Smithsonian, played a major role in highlighting environmental harm caused by the marine transport of invasive species, resulting in a federal reporting system, enforcement policies, and improved shipboard management practices. With over three decades of federal service, Ruiz's innovations have effectively reduced the accidental importation of invasive species, protecting our country's ecosystems.
Dr. Anne Schuchat, principal deputy director for the Centers for Disease Control and Prevention, is one of the nation's leading infectious disease experts. Dr. Schuchat has led numerous high-profile and consequential disease outbreak investigations to protect public health and save countless lives. During her thirty-three years at the CDC, she has played a major role in investigating and leading the US response to H1N1, West Nile, Ebola, Zika and COVID-19.
The winner of the Paul A. Volcker Career Achievement Medal will be announced in October at the Sammies Gala.