Deans Summit Members Explore Opportunities to Expand Reach and Impact of Public Service Education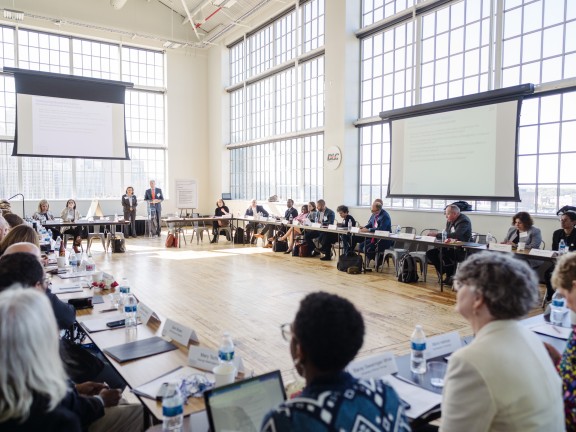 On October 11, the Volcker Alliance held the annual Deans Summit in Pittsburgh, Pennsylvania. Deans Summit chair, meeting host, and dean of the Graduate School of Public and International Affairs at the University of Pittsburgh, Carissa Slotterback, welcomed the group of over 40 deans and directors, kicking off a day of reflection on the contemporary state of the field of public service education and opportunities to expand its reach and impact. The meeting was followed by a reception to welcome the second cohort of participants in the Future Leaders of Schools of Public Service program, an initiative that aims to create more racially and ethnically diverse leadership in schools of public service.
The Deans Summit coincided with NASPAA's annual conference, which included multiple panels featuring the Volcker Alliance's public service education initiatives. Read more about the Deans Summit and the Future Leaders of Schools of Public Service program here.