Volcker Alliance Will Host Panel on the Legacy of President Jimmy Carter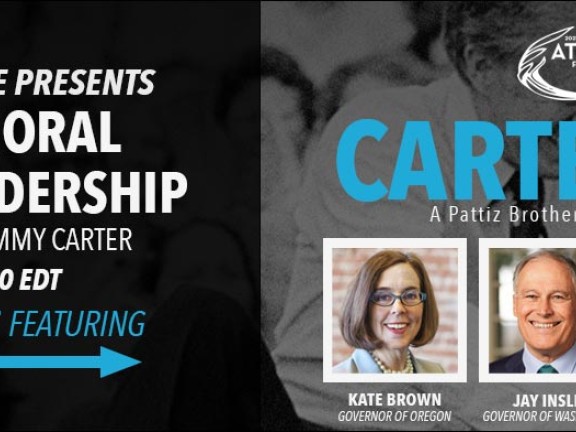 FOR IMMEDIATE RELEASE
Contact: Neilia Stephens, Director of Communications
nstephens@volckeralliance.org
347-683-9625
VOLCKER ALLIANCE WILL HOST PANEL ON THE LEGACY OF PRESIDENT JIMMY CARTER
The virtual panel will feature Governor Kate Brown of Oregon, Governor Jay Inslee of Washington, and NextGen America founder Tom Steyer
NEW YORK, NY (April 7, 2021) – Today, the Volcker Alliance will host a conversation in partnership with the Atlanta Film Festival and the new documentary CARTERLAND, which examines the life and presidency of Jimmy Carter. The virtual panel, "Profiles in Moral & Ethical Leadership: The Legacy of President Jimmy Carter," will take place today, April 7, at 12:30 p.m. PDT/3:30 p.m. EDT. The event will feature Governor Kate Brown of Oregon, Governor Jay Inslee of Washington, and NextGen America founder Tom Steyer, all of whom are also featured in the film CARTERLAND. Moderated by Volcker Alliance president Thomas W. Ross, the discussion will cover perspectives on the moral and ethical leadership dilemmas arising from national crises including the pandemic, climate change, and ethics in government.
"We are delighted and honored to host Governors Brown and Inslee along with Tom Steyer to discuss their own experiences and perspectives on what today's public leaders can learn from President Carter," said Volcker Alliance president Thomas W. Ross. "There are so many lessons aspiring changemakers can learn from President Carter's courage and leadership."
CARTERLAND tells the inspiring story of one of America's most misunderstood and under-valued presidents, Jimmy Carter, and explores how Carter's selfless leadership and moral integrity ultimately cost him the presidency. The film includes expert commentary from a range of politicians and scholars including all three panelists and Volcker Alliance board chairman and former New Jersey senator Bill Bradley. The documentary also contains one of the last recorded interviews of Volcker Alliance founder Paul A. Volcker before he died in 2019. Directed and produced by brothers Jim and Will Pattiz, the film will headline the Atlanta Film Festival from April 22 through May 2, officially premiering on April 24.
"The time we spent with Paul Volcker was an incredibly meaningful part of producing CARTERLAND," said director Will Pattiz. "It has been a pleasure partnering with the Volcker Alliance throughout the production process and to host this discussion."
Please click here to register or visit the Volcker Alliance website after the event to watch a recording of the panel discussion.
The Volcker Alliance empowers the public sector workforce to solve the challenges facing our nation. The nonprofit, nonpartisan organization is inspired by the legendary public service of our founder, Paul A. Volcker, former chairman of the Federal Reserve, and his vision of a public sector workforce with the experience, preparation, and commitment to ensure government is accountable and delivers with excellence. Visit volckeralliance.org to learn more. Follow us on social media @VolckerAlliance and subscribe to the Volcker Alliance newsletter for the latest news and developments. The Volcker Alliance is a 501(c)(3) organization.
###