Melissa Emrey-Arras Wins the Paul A. Volcker Career Achievement Medal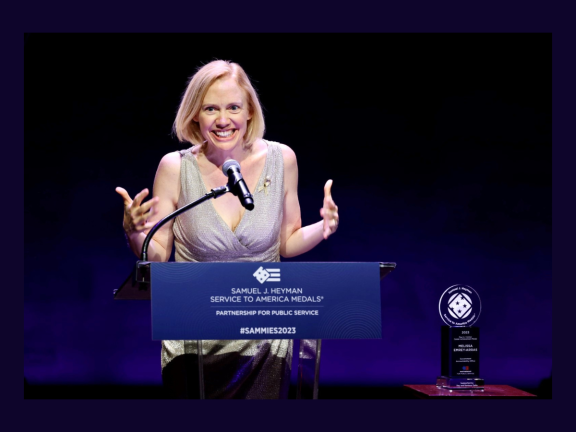 At this year's Samuel J. Heyman Service to America Medals ceremony (the "Sammies") in Washington, DC, Melissa Emrey-Arras was named the winner of the Paul A. Volcker Career Achievement Medal. The Paul A. Volcker Career Achievement Medal, supported by Ray and Barbara Dalio, is awarded every fall by the Partnership for Public Service to recognize the achievements of exemplary federal public servants. Winners are chosen based on their demonstrated leadership, the significance and impact of their accomplishments, how well they foster innovation, and the extent to which they exemplify excellence in public service over a career of at least twenty years in federal government.
Over the course of 21 years at the Government Accountability Office, Emrey-Arras has transformed the oversight of critical higher education financial aid programs, cracking down on corrupt federal student loan schemes, pushing the Department of Education and colleges to calculate loan and schooling costs more accurately, and helping millions access federal student aid and have portions of their loans forgiven. Read more about Emrey-Arras' exceptional accomplishments at GAO here.