Government-to-University Leader, Peter Morrissey, Featured on Podcast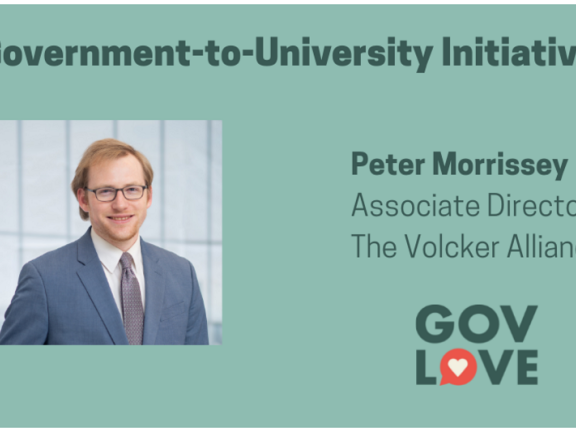 Peter Morrissey, Associate Director at the Volcker Alliance, joined the GovLove podcast to talk about the Government-to-University Initiative (G2U) which is an innovative approach to addressing critical governance challenges by building government and university partnerships.
The GovLove podcast is produced by the Engaging Local Government Leaders Network and is co-hosted by Lauren Palmer, the director of local government services for the Mid-America Regional Council which leads the G2U Network in Kansas City. The GovLove podcast primarily focuses on the people, policies, and profession of local government. The goal of the series is to tell informative and unique stories about the work being done at the local governmental level to inspire the next generation of public servants. The podcast series explores policy issues that impact local governments and highlights innovative solutions to address these issues.
During his feature, Morrissey shared how governments can make targeted connections and lasting relationships. He also discussed the work the Volcker Alliance is doing to help students navigate the state and federal government hiring processes and how local governments can do a better job in the recruiting process.