Alliance Hosts Entry-Level Virtual Career Fair with the State of North Carolina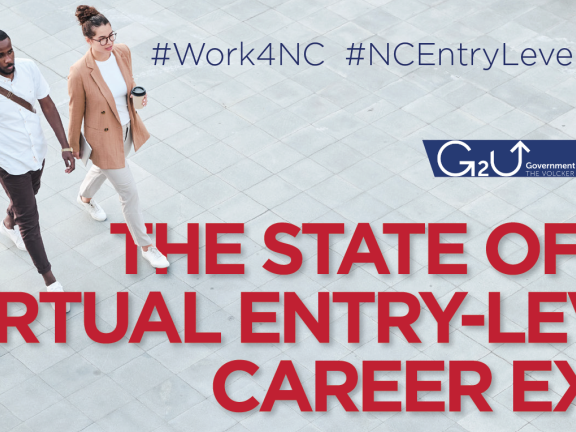 In April, the North Carolina Office of State Human Resources partnered with the Volcker Alliance's Government to University Initiative to host a Virtual Entry-Level Career Expo for students and recent graduates across the state. The fair was hosted on Brazen, a full suite career event management platform that provides a dynamic virtual experience.
The event brought together 770 jobseekers and 130 recruiters from 25 state agencies, including the Department of Environmental Quality, the Department of Justice, and the Department of Health and Human Services. Jobseekers were able to talk with recruiters about open positions at their agencies, and join five live webinars showcasing public agencies and workshops on how to apply to state government jobs.
Governor Roy Cooper provided opening remarks, describing the opportunities that come with starting a career in state government. "An entry-level position in state government opens the door to a bright future. You can pursue career pathways that will carry you from one exciting challenge to the next – even from one agency to another, or one location to another – as you gain skills, experience, and a passion for public service."
Career expos like North Carolina's are very timely. States employ over five million people tasked with delivering vital public services ranging from health care to transportation to education to public safety. Unfortunately, governments have struggled to hire in recent years: while the private sector has regained more than 90% of jobs lost during the pandemic, the public sector has gained back only half. Ensuring that governments can recruit the next generation of public service leaders is an investment in the future of our public institutions.
The Volcker Alliance seeks to meet this challenge through our G2U Initiative, a collaborative, national effort to connect jobseekers to public service jobs. We believe that public service is a high calling, and that government is best equipped to serve its citizens when qualified and passionate public servants are at the helm. Our partners around the country work collaboratively to share best practices and connect students to public sector opportunities and information.
Strong participation at the event confirms that rising leaders are hungry for opportunities to serve, and that government is keen to hire this next generation of leaders. The Volcker Alliance is interested in partnering to host additional career fairs for government jobs. These fairs could be anchored on geography, level of government, or occupation type. We encourage interested partners to email G2U@volckeralliance.org to set up an exploratory conversation with our team.