Alliance Featured at ASPA and APPAM Conferences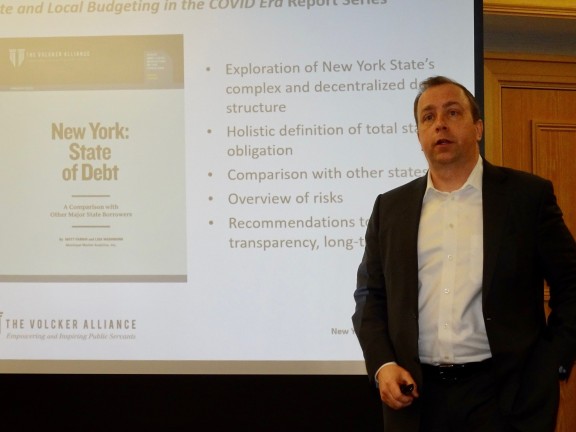 The Volcker Alliance's work on strengthening state and local finances and the public service was very much in evidence at the annual meeting of the American Society for Public Administration (ASPA) in March in Jacksonville, Florida.
On March 20, longtime municipal finance experts Matt Fabian and Lisa Washburn, co-authors of the paper published in February by the Alliance, "New York: State of Debt," presented their findings at a panel sponsored by the Association for Budgeting and Financial Management, an ASPA section. In their presentation, Fabian, a partner, and Washburn, managing director and chief credit officer at Municipal Market Analytics, noted that New York's practice of delivering many services through independent public authorities that issue bonds makes its overall debt structure more complex than in most other states. This system contributed to its D average grade from the Alliance in Budget Maneuvers for fiscal 2015-19. At a panel the day before, two Florida International University (FIU) researchers, Daniel Castro, a doctoral student, and Hai (David) Guo, associate professor and team leader for FIU's contributions to the Alliance's annual Truth and Integrity in State Budgeting reports, huddled with William Glasgall, senior director, public finance, after presenting papers based in part on Alliance assessments of state's budgetary practices.
The Alliance's Next Generation Service Corps (NextGen Service), meanwhile, was in the spotlight on March 22 as representatives of five member schools participated in a panel, "Finding Meaningful Pathways to Public Service." The panel included speakers from Georgia State University, Indiana University, University of Houston, University of Nebraska-Omaha and University of Pittsburgh and was moderated by Brett Hunt, the Alliance's director of next generation service initiatives. In their discussion, the panel explored five different models of NextGen Service programs and highlighted the work at the national level, including bringing students together through cross-school programming and promoting use of NextGen Connect, a professional social media platform for students. NGSC's work was also highlighted in a forum discussing national service and pathways to public service that was part of the ASPA President's Panel.
The following weekend, Sara Mogulescu, Volcker Alliance president, moderated a panel at the 2021 Fall Research Conference by the Association for Public Policy Analysis and Management (APPAM) in Austin, Texas. The panel, "The Power of Organizations like APPAM to Advance Equity and Inclusion in our Field: A Conversation with Three Leaders," took place on Sunday, March 27. The other panelists in the session were: Susan T. Gooden, dean and professor of the L. Douglas Wilder School of Government and Public Affairs at Virginia Commonwealth University; John Martinez, MPH, vice president and director of Program Development at MDRC and current president of APPAM; and Lashawn Richburg-Hayes, Ph.D., vice president, Education at Insight Policy Research and immediate past president of The Society for Research on Educational Effectiveness (SREE).