2023 Public Service Education Exchange Convenes Organizations with Shared Priorities for Collaboration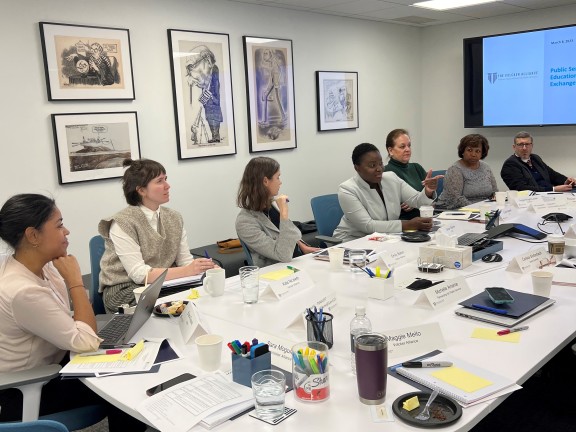 On March 8, the Volcker Alliance hosted the inaugural Public Service Education Exchange, a convening of organizations that are strengthening the pipelines into public service. The organizations present included the Association for Public Policy Analysis and Management (APPAM), the Association of Professional Schools of International Affairs (APSIA), the American Society for Public Administration (ASPA), the Deans Summit, the National Academy of Public Administration (NAPA), Network of Schools of Public Policy, Affairs, and Administration (NASPAA), the Partnership for Public Service, the Public Policy and International Affairs Program (PPIA), and the University Leadership Council on Diversity and Inclusion in International Affairs (ULC). The exchange was preceded by the PPIA Program's alumni mixer on the evening of March 7, which brought together alumni currently working in government, finance, technology, the legal field, and more.
Volcker Alliance President Sara Mogulescu facilitated a discussion of synergies in organizational priorities, identifying potential collaborative efforts, and establishing future communication channels. The organizations expressed a united interest in continuing to work together to diversify and build the talent pipeline into public service, retain active practitioners, particularly people of color in government, and refresh the national narrative around public service values and careers.
The convening provided a unique opportunity for organizational representatives to learn about one another's work in detail. The Alliance is thankful to attendees for making the time to be together and excited to have an even greater impact on the field of public service through ongoing partnerships.