2022 Sammies Career Achievement Medal Finalists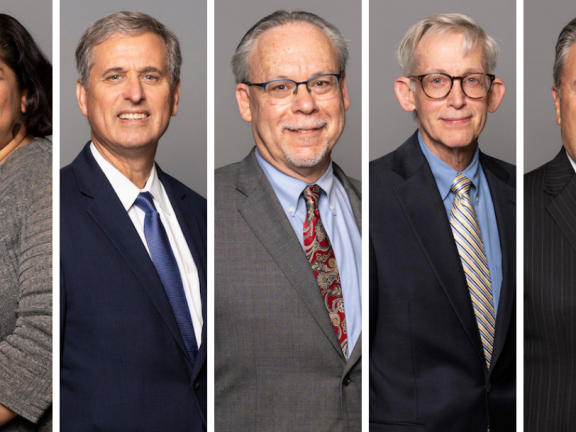 The Partnership for Public Service has announced the finalists for the 2022 Paul A. Volcker Career Achievement Medal, presented to one recipient annually as part of the Samuel J. Heyman Service to America Medals ("the Sammies"). The Sammies, also known as the "Oscars of government service," are a set of prestigious awards given to federal employees who demonstrate extraordinary excellence, innovation, and impact.
The Paul A. Volcker Career Achievement Medal, supported by Ray and Barbara Dalio, was established in 2019 in honor of the chairman and founder of the Volcker Alliance, Paul Volcker. The Paul A. Volcker Career in Government Achievement Medal is given to a person based on demonstrated leadership, the significance and impact of their accomplishments, how well they foster innovation, and the extent to which they exemplify excellence in public service over a career of at least twenty years in federal government. There are five finalists in the running for the 2022 Paul A. Volcker Career Achievement Medal:
Rupa Bhattacharyya, special master, September 11th Victim Compensation Fund, managed three separate victim's compensation funs during a lengthy federal career. Most recently, she revitalized the fund providing payments to those harmed by the September 11th, 2001, terrorist attacks to ensure that victims will have funds until 2090.
Scott Busby has been a leading defender of human rights worldwide, spearheading efforts across the federal government and the international community to hold violators accountable, secure the release of political prisoners, protect vulnerable refugees and advance the rights of at-risk that include LGBTQI+ and disabled persons. As deputy assistant secretary, Bureau of Democracy, he has brought attention to human rights transgressions in North Korea and China, strengthened the Global Equity Fund, and helped design the Khashoggi Ban.
Mitchell Zeller, J.D directed federal efforts to regulate the marketing and accessibility of tobacco products that can cause death and disease. As the director of the Center for Tobacco Products Director of the Food and Drug Administration, Zeller used congressional authority granted to the FDA to institute policies that cut back on cigarette usage and saved lives.
H. Clifford Lane, M.D., over four decades at the National Institute of Health, has conducted lifesaving research for people with HIV/AIDS. As clinical director for the National Institute of Allergy an Infectious Diseases, Lane has also made significant contributions towards treating infectious diseases overseas like Ebola and establishing national treatment guidelines for COVID-19.
Craig McLean, assistant administrator for Oceanic and Atmospheric Research for the National Oceanic and Atmospheric, has launched NOAA's ocean exploration program, mapped America's extended continental shelf as well as international waters, and championed the establishment of a global ocean observing system that enables better long-term weather forecasting. Over the course of more than 40 years in public service, McLean has made significant contributions to domestic and international collaboration for science and stewardship.
The winner of the Paul A. Volcker Career Achievement Medal will be announced in October at the Sammie Gala.