Truth and Integrity in State Budgeting 2018 Webinar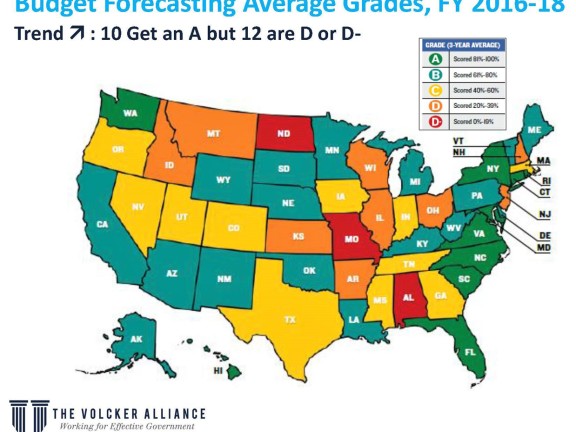 The Volcker Alliance hosted a webinar on Wednesday, December 12 where we unveiled our second annual report on the states: Truth and Integrity in State Budgeting: Preventing the Next Fiscal Crisis.
The report from the Volcker Alliance's Truth and Integrity in Government Finance initiative features new grades for all fifty US states in five critical budgeting areas for fiscal 2016 through 2018.
Explore the Results in our Data Lab
The expert panel included:
William Glasgall, Volcker Alliance Senior Vice President and Director of State and Local Initiatives
Beverly Bunch, Professor of Public Administration at the University of Illinois at Springfield
The report and panel reviewed the Volcker Alliance's exclusive state grades in the categories of Budget Forecasting, Budget Maneuvers, Fiscal Reserves, Legacy Costs (public employee pensions and health care), and Budget Transparency. Compared with our previous state grades, the current results show how much difficulty states have in balancing their budgets and achieving their goal of fiscal sustainability. And despite these challenges, there are states that have managed to do well in these areas. Our panel of experts also discussed the results' implications for financial markets and taxpayers.
Truth and Integrity in State Budgeting 2018 Webinar from Volcker Alliance on Vimeo.