NextGen Service Program Leaders Exchange Innovative Approaches to Student Learning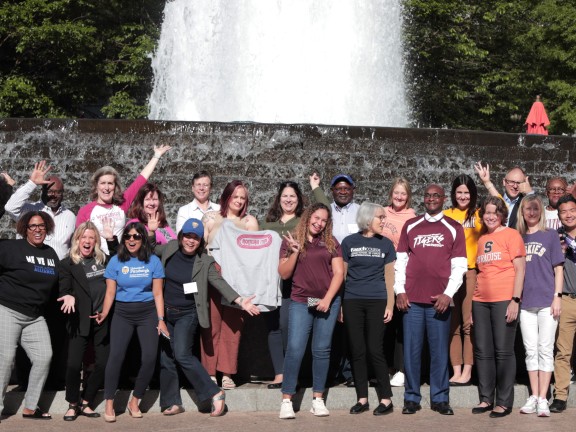 The Volcker Alliance convened university leaders from fifteen universities from the Next Generation Service Corps national network for a Technical Assistance Retreat, hosted at Georgia State University (GSU) from April 17 through April 19. The retreat brought together program leaders in various planning stages to engage, exchange lessons learned, and share innovative approaches to implementing NextGen Service programs.
The three-day retreat kicked off with an introductory session led by Brett Hunt, senior director of Next Generation Service Initiatives, and Tammie Green, the incoming director of Next Generation Service Initiatives, and a student-led tour of the GSU campus. That evening's dinner featured guest speaker and Atlanta legend, Sam Williams, former president of the Metro Atlanta Chamber of Commerce and Central Atlanta Progress, and current professor of practice in Georgia State's Urban Studies Institute, who spoke to the importance of experiential learning in building a stronger workforce and community.
"The work you all are doing here, making sure students take what they learn in the classroom and apply it to the real world, is beyond important," he said. Williams teamed up with many leaders of the Civil Rights Movement, along with former Atlanta mayor, Ivan Allen, Jr., to create work-study opportunities for GSU students and to push Atlanta's business community towards more inclusive hiring practices.
Over the course of the next two days, the university leaders immersed themselves in discussions and panels focused on student recruitment; ways to create engaging experiential learning events and program retreats; how to create a dynamic curriculum and design coursework; and how to develop robust partnerships, both on and off campus. Participants were paired together for mentorship across campuses, interacted with students in GSU's Social Action Alliance, and had time set aside to reflect as university teams on how to put what they learned into action.
Paige Alexander, CEO of the Carter Center and wife of Steve Grand, GSU professor of practice and Social Action Alliance (SAA) advisor and advocate, invited the group of NextGen Service leaders to a private tour of the Carter Center. From the famous Andy Warhol paintings of President Carter to the president's own artwork, it was an amazing immersion into history.