Next Generation Service Corp Gains Momentum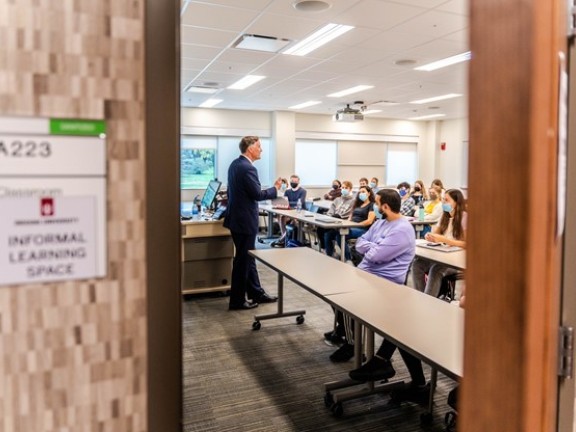 The Next Generation Service Corp (NextGen Service) marked two important milestones this fall.
On October 4, 2021, over 125 students at the University of Indiana (IU) gathered in Bloomington to officially launch NextGen Service on the IU campus. Former Indiana governor and senator Evan Bayh helped welcome the students and inspire participation.
In her opening remarks, Sian Mooney, dean of the Paul H. O'Neill School of Public and Environmental Affairs, noted the NextGen Service program in Bloomington is focused on engaging students traditionally underrepresented in public service. "NextGen Leadership is part of a national effort that is going to be strengthened by broad participation in public service, diverse leadership, and constructive collaboration," she said. "We hope to inspire you, our students, to serve your communities and the nation."
Three weeks later, the School of Public Administration at the University of Nebraska at Omaha (UNO) was named a finalist in the Voinovich Public Innovation Challenge at the 2021 Network of Schools of Public Policy, Affairs and Administration (NASPAA) conference. The prestigious competition for innovative approaches to enhancing public service education awards a $10K prize—UNO will use the award to fund student scholarships for its new NextGen Service
Leadership Corps. Judges highlighted the program's unique approach to enroll students from all disciplines and majors in its new collaborative leadership minor co-designed by the College of Public Affairs and Community Service and the College of Business Administration.
The NextGen Service programs at IU and UNO are just two of the ten schools across the country participating in the Volcker Alliance's Next Generation Service Corps initiative. The initiative creates new undergraduate programs to prepare students for public service careers, developing young, diverse leaders with the wherewithal to rise to the challenges of our time.