FEB 60th Anniversary: Looking Back and Looking Ahead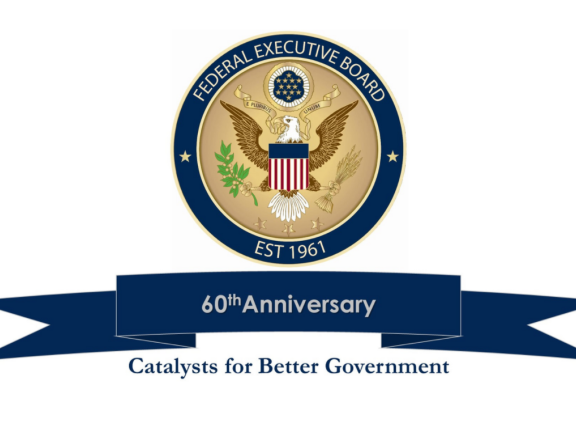 On November 10, 1961, President Kennedy created the Federal Executive Board Network (FEB) with the lofty assignment to improve "economy, efficiency, and the substantive effectiveness of the Executive Branch of the Government." This week, federal leaders across the country celebrated its 60th Anniversary.
What are Federal Executive Boards? FEBs coordinate activities among federal agencies outside the Beltway, where more than 85% of federal employees work. There are 28 Boards in regions of significant federal presence around the country. The work of each FEB is varied by design, reflecting the different needs of the federal community in each region. But most play a leading role in cross-agency emergency management, provide training for federal employees, and coordinate cross-government strategic partnerships. In just the last year, FEB leaders coordinated the responses to three hurricanes, provided over 20,000 federal employees with free training and professional development opportunities, and raised $38 million from federal employees for charities through the Combined Federal Campaign.
From my own perspective, FEBs have been invaluable sources of collaboration and market intelligence with the federal community in regions around the nation. We have partnered with FEBs in Kansas City, Los Angeles, Chicago, Pittsburgh, and elsewhere through our Government-to-University Initiative, and their incredible leaders have helped supercharge our talent connection work between federal agencies and local universities.
As we celebrate 60 years of service from FEBs, I am struck by how uniquely positioned FEBs are to contribute to solving the greatest federal-wide challenges. Among other opportunities, FEBs seem ideally situated to play a leading role in attracting, recruiting, and hiring the next generation of federal leaders.
The federal government is in the midst of an emerging workforce crisis: its workforce is older than the private sector and is moving toward retirement, even as the federal government has struggled to attract a new generation of leaders in a competitive labor market. Only 7% of the federal workforce is under the age of 30, while in some high-need fields such as IT, that data point is as low as 3%.
The federal government is a great place for mission-driven young people to serve. Unfortunately, getting in the door can be difficult. The federal hiring process can be intimidating and opaque, and colleges and universities often lack the connections needed to introduce federal jobs and internships to their students. In concert with Washington, FEBs embedded in communities across the nation are positioned to trumpet the incredible opportunities in government service, catalog hiring needs, host job recruitment and information events, and actively connect agencies seeking talent and institutions producing it.
As senior leaders in Washington grapple with how to ensure the federal government has the talent it needs in the decades ahead, they would do well to consider investing further in FEB capacity to build strategic talent partnerships. In their first six decades, FEBs have proved to be agile and knowledgeable connectors across a large, diffuse, and complex workforce. As they enter their seventh, the nation would benefit from elevating them further to attract a skilled, committed, and diverse generation of public servants from every corner of the nation.