Deans Around the Country Work to Promote Diversity in Public Service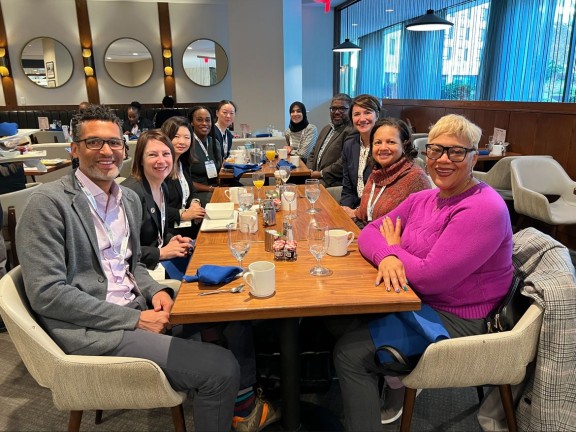 Born out of the Deans Summit, Future Leaders of Schools of Public Service (FLSPS) is a mentorship program focused on cultivating racially and ethnically diverse leadership for schools of public service. In November, FLSPS participants met in Washington, DC, during the annual APPAM conference to forge relationships between mentors and mentees. Hosted by co-chairs Dean Nisha Botchwey and Dean Carissa Slotterback, the program plans to host additional in-person meet-ups at conferences with high attendance among the cohort.
Earlier this month, the Volcker Alliance team hosted the first of four training modules available to the mentees. This first module, Navigating relationships and establishing trust as BIPOC leaders and scholars, featured a panel discussion with a few of our mentors. Module participants had the chance to discuss the challenges unique to BIPOC leaders and what strategies they may employ to combat those challenges. The next training module will take place in February and teach mentees how to balance the various responsibilities of a dean.
Another cohort of deans supported by the Volcker Alliance, the University Leadership Council on Diversity and Inclusion in International Affairs (ULC), met on November 4 to discuss DEI strategic planning and results measurement. Maggie Mello, director of public service education at the Volcker Alliance, facilitated the conversation with Carla Koppell, interim vice dean for diversity, equity, and inclusion at the Walsh School of Foreign Service at Georgetown University. Dean Koppell shared research insights about best practices when measuring results of DEI strategic plan implementation, and participants shared their successes and challenges in monitoring plan implementation. The Council members also discussed their priorities for 2023 and suggested ways that the ULC could best support members in the year ahead.