ASU Graduates Its Third Class of Next Generation Service Corps Students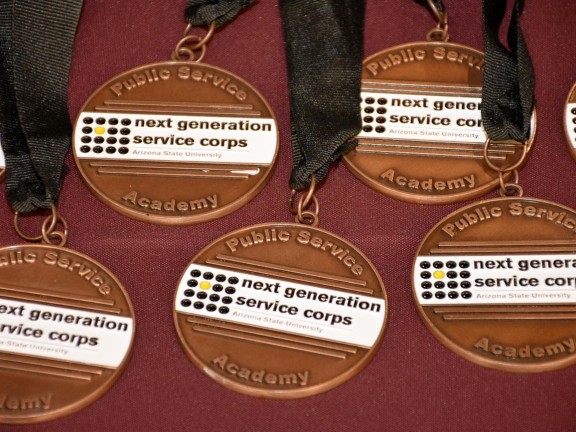 Arizona State University's Next Generation Service Corps (NGSC) graduated its third cohort on May 3, 2021, sending another group of exceptional young leaders into the workforce and the world. This class of over 100 graduates—representing diverse backgrounds and a variety of majors including journalism, health, engineering, and design—each earned a certificate in cross-sector leadership, signifying completion of a rigorous leadership development program and commitment to public service.
The NGSC Class of 2021 was chock full of accomplished students. For example, Elon Graves is graduating with a bachelor's degree in journalism and mass communication with a public relations focus, honors from Barrett Honors College, and a cross-sector leadership certificate from the NGSC. Trey Leveque is graduating with a bachelor's degree in business, global politics, law, public service and public policy, as well as a certificate in cross-sector leadership. Both students' stories showcase how the NGSC helps develop leaders who are engaged in their campus community, their coursework, and in their communities.
As the Volcker Alliance's Next Generation Service Partnership continues to expand, the NGSC Class of 2021 will be among the first students to join our national network of students and alumni united by a commitment to public service and driving social change.
We extend our warmest congratulations to the NGSC Class of 2021 and look forward to seeing the many ways they will have impact throughout their careers.