Next Generation Service Partnership
The Next Generation Service Partnership (NextGen Service) is a national initiative led by the Arizona State University Watts College of Public Service and Community Solutions and the Volcker Alliance that seeks to inspire undergraduate students to drive needed change and impact throughout their careers.
At a time when trust in government is at historic lows and there is an urgent need to develop the next generation of public leaders, Schools of Public Service have an opportunity to expand their reach to undergraduates eager to make change in the world. Engaging a broader swath of motivated undergraduates in public service education, particularly in ways designed to complement exploration of their majors, will position undergraduates for influence and impact in public service and beyond.
The goals of the NextGen Service initiative are to:
Elevate undergraduate engagement as a national priority for Schools of Public Service;
Expand the reach of educational strategies that work for undergraduates;
Foster collaborative planning and learning between Schools of Public Service and other academic units and departments across their campuses; and
Provide technical assistance and resources to help Schools of Public Service accelerate planning and implement innovative undergraduate programming quickly and effectively.
Approach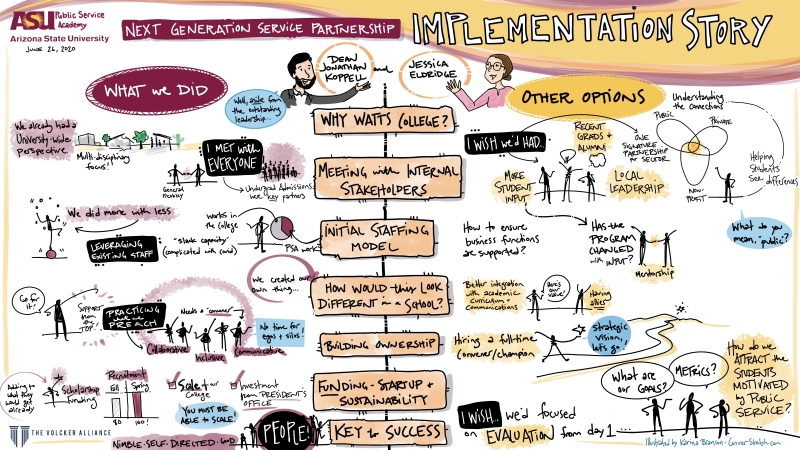 The Public Service Academy (PSA) at ASU Watts College is an esteemed, innovative approach to undergraduate engagement. The PSA, launched in 2015, helps students wrestle with the question, "How do public, non-profit, and private sectors come together to solve the big challenges of the world?" Core components of the PSA model include:
Students are competitively selected and, ideally, financially supported;
Students begin in their first year and move through the program as a cohort over the entirety of their undergraduate experience;
Participating students are drawn from different majors across the university;
While their primary bachelor's degree signifies mastery in a discipline of choice, students receive a complementary certificate signifying that, in whichever field this student enters, he or she will be well-prepared to work for the public good as a distinct priority;
Core curriculum emphasizes the development of skills required for public sector problem solving, including cross-sectoral collaboration, leadership, entrepreneurship, or other complementary skill sets; and
Every participating student is provided with practical experiential learning to complement their coursework, through internships, leadership positions, community service, or other opportunities.
Leveraging the knowledge and experience of the pioneering leaders at ASU Watts College, the NextGen Service initiative offers an opportunity for Schools of Public Service to actively explore or design new strategies for engaging undergraduate learners. NextGen Service offers two tiers of engagement for interested schools.
Tier 1: Information Sharing Network
The NextGen Service Information Sharing Network is open to any representative from a School of Public Service who is interested in expanding undergraduate public service education. Network members will be invited to participate in a series of structured webinars and interactive sessions to share information about ASU's Public Service Academy model and other promising approaches to undergraduate public service education. Webinar topics will be announced in advance so attendees can select which webinars are most relevant to their school context. Materials will be circulated to inform participant consideration of possible models and engagement strategies. Information Sharing Network activities will be virtual.

Archived videos and other materials from the NextGen Service Information Sharing Network can be found here.
Tier 2: Active Planning Cohort
Schools that are committed to implementing undergraduate public service programs that share the core components of the ASU Public Service Academy will be selected to participate in the NexGen Service Active Planning Cohort. For one year, the Volcker Alliance and ASU Watts College will provide the Active Planning Cohort access to a range of support to inform and accelerate their planning and implementation efforts including: seed funding, strategic planning, project management support, facilitation, engagement of thought partners, documentation and synthesis, communications strategy assistance, and organized opportunities for peer-to-peer learning. Schools in the Active Planning Cohort will have ample space to share ideas, challenges, successes, and lessons learned with participating peer institutions.
The first Active Planning Cohort, which began work in July 2020, includes:
Schools of Public Service that are interested in participating in the Information Sharing Network (Tier 1) of NextGen Service can register using the form below.
Schools of Public Service that are interested in participating in the Active Planning Cohort (Tier 2) of NextGen Service, should email nextgen@volckeralliance.org to schedule a virtual consultation with the Volcker Alliance and ASU Watts College teams.