Federal Response to Pandemic Challenges for State and Local Governments
The Volcker Alliance and Penn IUR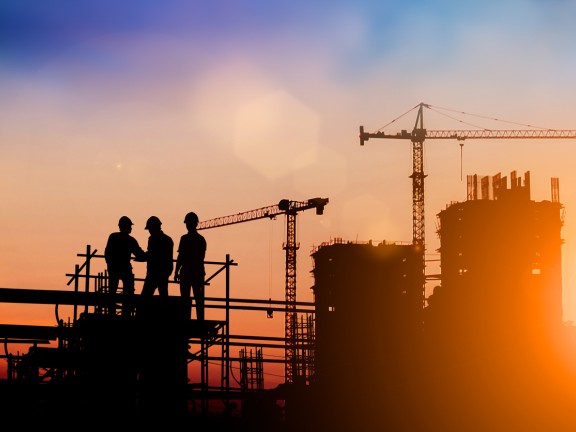 A pathbreaking set of three legislative initiatives, heralding what President Joe Biden describes as the "Infrastructure Decade," proposes a multi-trillion dollar infusion of funding to state and local governments. In a series of online Special Briefings convened by Penn IUR together with the Volcker Alliance, federal, state, and local budget experts assessed the opportunities and challenges posed by these initiatives to beleaguered state and local governments in response to the COVID-19 pandemic.
The first of these bills was the $1.9 trillion American Recovery Plan Act (ARPA), signed by President Biden in March, which included $350 billion in direct support for state, territorial, county, municipal, and tribal governments. The U.S. Senate on August 10 passed the second, the American Jobs Plan, an approximately $1 trillion bipartisan legislation which includes $110 billion for roads and bridges; $66 billion for railroads, $65 billion for the power grid, $65 billion for broadband, and $55 billion for water and sewer projects. The bill focuses on traditional infrastructure, with investments for climate resilience, public transit, and airports. A third bill, the American Families Act, currently under consideration, focuses on human capital infrastructure, including pre-K and community college education for all.
The Special Briefings were the latest in a series of hour-long monthly webinars moderated by Penn IUR Co-Director Susan Wachter and Volcker Alliance Senior Vice President and Director of Local Initiatives William Glasgall. Since they began in April 2020, the convenings have brought together current and former governors, comptrollers, mayors, and county executives; members of Congress; academics, and municipal bankers and investors to discuss the impact of COVID-19 on their budgets and operations and trillions of dollars in federal emergency aid. Almost 7,000 attendees and viewers, including academics and practitioners at the federal, state, and local levels, have joined these convenings.
The webinars are scheduled to resume on September 23 at 11 a.m. EDT with a program focusing on state and local infrastructure needs for broadband and water facilities, which are included in the American Jobs Plan and are also eligible for federal investment dollars in ARPA. The September event will feature Newark, New Jersey Mayor Ras J. Baraka; Kathryn de Wit, Project Director, Broadband Access Initiative, The Pew Charitable Trusts; Thomas Hazlett, Macaulay Endowed Chair in Economics at Clemson University; and Howard Neukrug, Executive Director of The Water Center at Penn. Registration and additional information on the webinar is available on the Penn IUR and Volcker Alliance websites.
In the following we briefly describe the highlights of the past three briefings on the rapidly evolving infrastructure funding plans. These and future sessions are recorded and can be viewed at the Penn IUR and Volcker Alliance websites.
May 20: The American Jobs Plan and State and Local Infrastructure Needs
U.S. Deputy Transportation Secretary Polly Trottenberg kicked off the May briefing, saying Biden's transportation infrastructure plan, under the American Jobs Plan, would provide more than more than $100 billion for roads and bridges, as well as investment in mass transit and passenger rail. It would also invest in deploying electric vehicles and decarbonizing the transportation system, she said, with investment targeted to underserved communities. The Secretary went on to describe the American Jobs Plan as bigger than just transportation. As Trottenberg said. "It's replacing lead pipes all over the country, bringing affordable broadband all over the country.
Richard Ravitch, former New York State Lieutenant Governor and a Volcker Alliance board member, said, "The most under-reported, under-discussed issue in the United States at this moment is the fiscal situation of states and cities. Obviously, infrastructure is a critical part of it." Rep. Earl Blumenauer, D.-Ore., a senior member of the House Committee on Ways and Means, added that the nation's failure to invest in roads, schools, water systems and other public works has been particularly harmful to poor communities and people of color.
Robert Poole, Transportation Policy Director at the Reason Foundation, argued that infrastructure spending was needed but that the plan should incorporate provisions to spur private investment and limit the cost to taxpayers, as the country looks to replace the gasoline tax to help pay for highways.
"There's a lot of good things in the president's plans, but I think three key elements are missing, and they all three fit together: User Fees, long term financing, and private capital," Poole noted.
Mark Morial, National Urban League President and CEO, said Biden's proposals echo the Main Street Marshall Plan developed at the National Urban League during the Obama years. "Looks like the president xeroxed our plan," the former Mayor of New Orleans said. "This is a 21st Century plan for 21st Century problems."
June 17: COVID-19, the American Rescue Plan, and State and Local Budgets
The June session zeroed in on ARPA and how it responded to long-term funding needs for states and municipalities and the potential for "fiscal cliffs," especially after December 31, 2026, the deadline for spending ARPA fiscal emergency funding.
"Budget officers are concerned about that fiscal cliff," said Shelby Kerns, Executive Director of the National Association of State Budget Officers. To avoid them, Kerns said spending plans for the ARPA money include state funding to provide economic relief; enhance public health; provide education and workforce training; support economic development and tourism; give bonuses for first responders; and pay for housing assistance, infrastructure, and the restoration of unemployment funds.
Hughey Newsome, Chief Financial Officer of Wayne County, Michigan, home to Detroit, said the county received $340 million—the equivalent of 60 percent of its general fund—under ARPA.
In deciding how to spend the money, Wayne County officials are asking: "Is it an investment that provides a recurring reduction in operating expenditure or a recurring increase in our general revenue?" Newsome said. "This is transformative money, even though it's not recurring money."
Kerns and Newsome were joined on the panel by Mark Zandi, Chief Economist at Moody's Analytics, and Kim Norton, Mayor of Rochester, Minnesota.
July 15: The Biden Infrastructure Plan: Resilience, Equity, and Federal Investment
Panelists at the July briefing discussed their views on how infrastructure investment, particularly under the American Jobs Act, which was then under consideration, should be focused on equity and resiliency issues, which have been hit the hardest by the pandemic, natural disasters, and climate change.
"I look at all infrastructure through the climate lens," said Municipal Market Analytics President Thomas G. Doe. "It's looking not just at existing projects and their risk, but also what the future probable risks are for any new efforts that are being done, and, especially, not just on durability but also on equity as well."
U.S. Representative Carolyn Bourdeaux, D.-Ga., who sits on the House Transportation and Infrastructure Committee, said the legislation moving through congress was likely to include a "huge increase" for water and wastewater investment.
Because of a lack of investment over the past decade, lead is leaching into the water in urban areas and suburban areas are struggling to keep up with growth, she said. "Swaths of suburbs on septic systems can't grow or develop unless they have water and wastewater infrastructure that underpins them."
But Idaho Governor Brad Little said his state was being cautious in its use of relief money. "We're not certain, and I don't think anybody is, about when this is going to normalize," he added. "We want to make sure we know what normal is … and what to do when the federal government ceases to inject money into the economy."
The state does have a need to maintain its roads and address congestion, he said.
"We're the fastest growing state in the nation, and we want to plan for that," Little said. "As the state grows, infrastructure is a way to address housing affordability, too, if you do it right," he said, suggesting that local governments can build corridors to areas where it's cheaper to build.
Nassau County, New York, Executive Laura Curran said the Long Island community, which sits on top of its sole source of drinking water, is focusing efforts on water and wastewater projects. It has "a big ask in" for federal infrastructure support.
"When you have stable communities, safe communities, and more environmentally resilient communities, that's good for the economy, ergo it's good for our credit rating," she said, noting the county's efforts to fix chronic credit issues.
The interrelated issues of credit ratings and long-run needs for resiliency and equity are front and center for local government officials and municipal and state budget experts. The Special Briefing series goal is to help build a community of practice which includes academics and practitioners. All the special briefings are available at the Penn IUR website.
Special Briefings are made possible by funding from The Century Foundation, the Volcker Alliance, and members of the Penn IUR Advisory Board.