Dr. Ira Pastan Wins 2020 Paul A. Volcker Career Achievement Medal
The Partnership for Public Service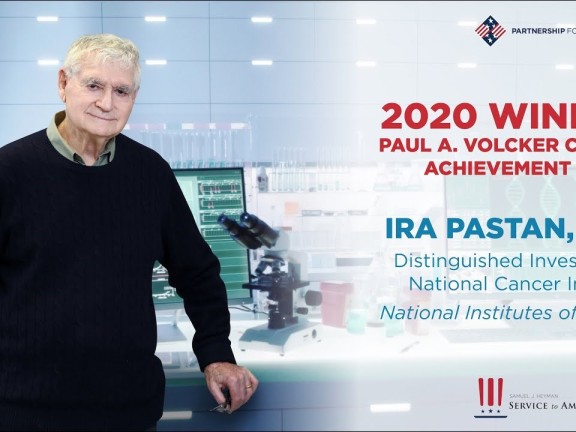 The Volcker Alliance extends our highest congratulations to this year's winner of the Paul A. Volcker Career Achievement Medal, Dr. Ira Pastan!
On October 5, Dr. Ira Pastan was awarded the Paul A. Volcker Career Achievement Medal for his discoveries and innovations in modern-day cancer treatment. Dr. Pastan spent over 60 years serving the National Cancer Institute and made instrumental breakthroughs and discoveries in the field of cancer research. He discovered a new class of drug that successfully treats a rare, but deadly form of leukemia known as Hairy Cell leukemia. Additionally, the drug, Lumoxiti, holds promise to effectively aid in therapies for pancreatic cancer, lung cancer, and mesothelioma.
The Paul A. Volcker Career in Government Achievement Medal is given to a person based on demonstrated leadership, the significance and impact of their accomplishments, how well they foster innovation, and the extent to which they exemplify excellence in public service over a career of at least twenty years in federal government. The award is presented at the Samuel J. Heyman Service to America Medals (the "Sammies"), commonly known as the "Oscars of government service," which celebrates the important achievements of the nation's federal workforce. Due to the COVID-19 pandemic, this year, the Partnership for Public Service successfully hosted their first virtual Sammies award ceremony which aired live on Bloomberg Television and streamed on a variety of platforms and included messages to public servants from former Presidents Barack Obama and George W. Bush.
The Partnership for Public Service established the Paul A. Volcker Career Achievement Medal in 2019 in honor of the late chairman of the Volcker Alliance, Paul A. Volcker. Mr. Volcker worked for the federal government for nearly three decades as the undersecretary of the Treasury for monetary affairs, president of the Federal Reserve Bank of New York, chairman of the Federal Reserve, and chairman of the Economic Recovery Board. Throughout his career, Mr. Volcker worked alongside presidents Carter, Nixon, and Obama, as well as many of the world's leading politicians, bankers, and financiers. The Paul A. Volcker Career Achievement Medal is supported by a generous gift from Ray and Barbara Dalio.
Before his passing, upon the dedication of this prestigious award, Mr. Volcker said, "Government functions best when it is staffed by civil servants who represent our most thoughtful and accomplished citizens. I am humbled to have this award dedicated in my name and thrilled to celebrate those who have devoted their careers to working for the public good."
Watch the full Sammies award stream here.
Read more about Dr. Pastan's incredible accomplishments here.