NextGen Service Corps Schools Collaborate at March Retreat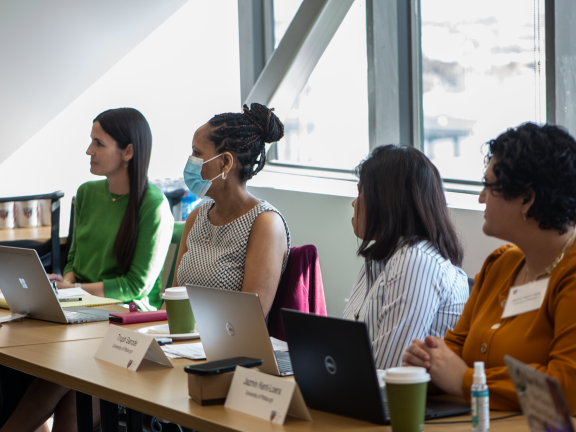 On March 16, 2022, program administrators from several Next Generation Service Corps member schools gathered at Arizona State University in Tempe, Arizona for a Technical Assistance Retreat. The Next Generation Service Corps (NextGen Service) is a ground-breaking initiative that introduces undergraduate students to public service values and builds practical, collaborative leadership skills, regardless of their chosen major. Representatives from the following members schools attended: University of Pittsburgh, Pennsylvania State University, Montclair State University, University of Washington, Arizona State University, North Carolina Central University, and Texas Southern University. The goal of the retreat was to discuss, collaborate, and ultimately learn from the varied programs taking shape across schools.
The retreat kicked off with a group dinner on the evening of March 16, where ASU Watts College Dean Cynthia Lietz gave a welcome speech to attendees. On March 17, the retreat continued with a day full of panel-style workshops in ASU's Sun Devil Stadium. Bryan Murdock, director of the Center for Community Engagement at Montclair State University, noted the importance of holding the retreat at Arizona State University, the birthplace of the Next Generation Service Corps. "We've come to the mothership and we're learning from the people who have been here designing, implementing, and refining it," he stated.
Workshops over the course of the retreat focused on topics such as recruitment, curriculum and coursework, experiential learning methods, and the importance of external partnerships. Colleen Herbert, director of community engagement and service at North Carolina Central University, found value in the retreat through what she learned from other schools early in the planning stages of their programs. "[NextGen Service] is nuanced at every institution," she explained. The retreat provided her team with the space to ask: "What does it look like for us?"
Participants spoke with current ASU NextGen students about their experiences and why they chose to enter a public service program. Kathryn Pursch Cornforth, director of community engagement at the University of Washington, spoke to how the retreat pushed her to rethink community building methods and consider the importance of cohort building practices. "I'm hearing the power of retreats differently," she said. "It's a return to a student development practice, or method, that I've become disconnected from. There's a real power in cohort experiences that I don't want to overlook."
One participant, Michael Adams, professor of political science and public administration at the Barbara Jordan and Mickey Leland School of Public Affairs at Texas Southern University, saw the creation of a NextGen Service Corps program at his institution as a way to remedy decreased enrollment due to the COVID-19 pandemic. Ideologically, Adams sees NextGen as an important tool for supporting the changemakers of the future: "A program like NextGen … reframes what the mission should be once you get a degree, as a student, and how you should use that degree. You're transforming lives and hopefully, at some point, we'll be able to see that as a benefit to society."