Michael Piwowar Joins Board of Directors and Helps Kick off the Richard Ravitch Public Finance Initiative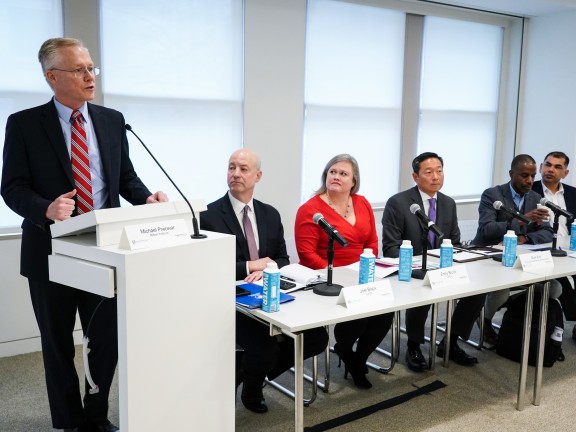 The Volcker Alliance is excited to announce that Michael Piwowar recently joined our Board of Directors. Dr. Piwowar currently serves as executive vice president of the Milken Institute Center for Financial Markets and has previously held roles as a commissioner of the US Securities and Exchange Commission under President Barack Obama and acting chairman of the commission under President Donald Trump. Prior to those roles, he was chief economist for the US Senate Committee on Banking, Housing, and Urban Affairs; senior economist at the President's Council of Economic Advisers; and the senior economist for the financial regulatory working group of the President's Economic and Recovery Advisory Board led by Paul Volcker.
Dr. Piwowar brings a breadth of experience in public finance to the Alliance and played an active role in the recent launch of the Richard Ravitch Public Finance Initiative. The launch's symposium in January 2023, timed to coincide with the Milken Institute's Public Finance Forum, was a rare convening of leaders across government and public finance research. Its success was in no small part thanks to the partnership of the Milken Institute, National Academy of Public Administration, Penn Institute for Urban Research, and the Pew Charitable Trusts.
Dr. Piwowar led a robust discussion of the current efforts to ensure stability in municipal borrowing. The panel featured Joel Black, chair of the Government Accounting Standards Board; Emily Brock, director of the Government Finance Officers Association; Mark Kim, president and chief executive officer of the Municipal Securities Rulemaking Board; Fitzroy Lee, deputy chief financial officer and chief economist for the DC Office of the Chief Financial Officer; and Vikram Rai, head of Citi's Municipal Strategy group.
The Volcker Alliance is honored and delighted to have Dr. Piwowar on our Board. Read more about Dr. Piwowar here and the Richard Ravitch Public Finance symposium here.