Glasgall, Ravitch Featured at Milken Institute Forum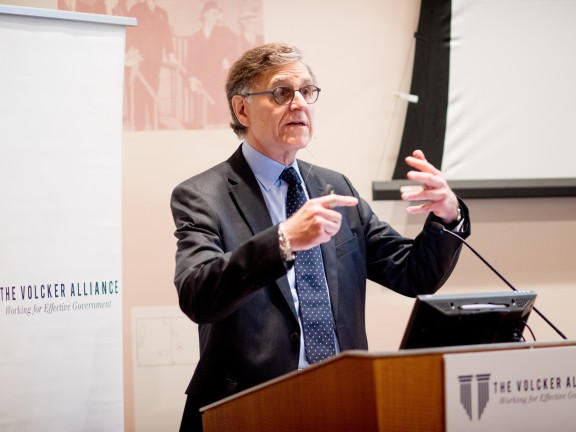 Volcker Alliance experts were featured on January 13 at the Milken Institute Public Finance Forum 2022, held virtually.
At 2 p.m. EST, William Glasgall, Volcker Alliance Senior Director, Public Finance, joined a group of specialists on a panel entitled Silver Linings Playbook: New Momentum for Outcomes-Driven Government. Glasgall discussed the Alliance's recent report, Truth and Integrity in State Budgeting: Preparing for the Storm. He also reviewed innovations in budget practice, challenges to states' fiscal stability posed by COVID-19, and how governments are deploying funds received under the American Rescue Plan enacted by Congress in 2021.
"It's an honor to be included among the government officials and fiscal experts presenting at the Public Finance Forum," said Glasgall. "The Volcker Alliance's Truth and Integrity in State Budgeting research findings will inform our panel's discussion of government innovation and help guide leaders both in spending federal COVID-19 emergency aid and investing for a post-pandemic future."
At 4 p.m., following the panel, Alliance Director Richard Ravitch and New York Governor Kathy Hochul sat down for a one-on-one conversation on challenges that the new governor and the state face in the coming year. They also discussed their shared experience of serving in Albany as lieutenant governors.