Alliance Leadership on Display at NAPA Fall Meeting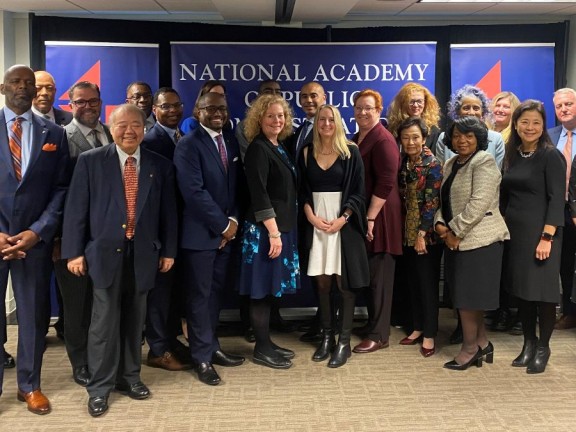 On November 4, Sara Mogulescu was formally inducted as a 2022 National Academy of Public Administration (NAPA) Fellow during the annual Academy Fall Meeting in Washington, DC. Sara, alongside 34 other leaders in public administration, officially joined the network of more than 950 Academy Fellows–including former cabinet officers, members of Congress, governors, mayors, state legislators, as well as prominent scholars, business executives, nonprofit leaders, and public administrators.
Peter Morrissey, Director of Government to University Initiatives, also represented the Volcker Alliance at the Academy Fall Meeting. Peter discussed strategies to address the most pressing public workforce challenges on the panel, "Policies & Partnerships to Enhance the Connecticut Public Sector." Additional panelists included Luke Bronin, Mayor of Hartford, CT; Kelli-Marie-Vallieres, Vice Chair of the Governor's Workforce Council; and, Michelle Gilman, Commissioner of the Connecticut Department of Administrative Services. Mohamad Alkadry, Director of the University of Connecticut School of Public Policy, moderated the discussion.