LevelUp Gov: A Marketing Contest
Welcome to LevelUp Gov, a national contest collecting fresh, bold messages to get people with technology skills to pursue government jobs.
This is your hub for all contest materials. Enter by February 6, 2023 to be considered for a $10,000 cash prize!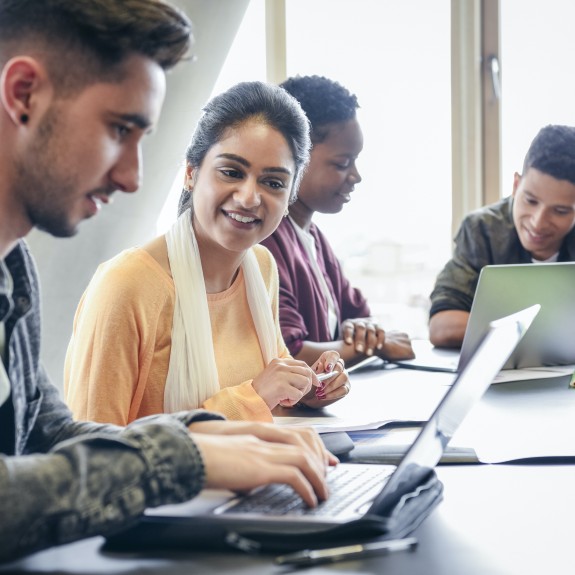 Technological innovation and the welfare of our country are tightly linked. If we want to shape and protect our future—avert the climate crisis, accelerate the transition to green energy, modernize America's crumbling transit system and infrastructure—we must creatively deploy technology and use it in an equitable way. How can we use tech as a force for good? One way is to equip the government with the fiercest, sharpest tech talent.
Unfortunately, not enough people with cutting-edge tech skills are interested in working in the government. Here's a troubling fact: only three percent of information technology workers in the federal government are under the age of 30, while over half are approaching retirement.
That's where you come in.
LevelUp Gov is a national contest to collect fresh, bold messages to get people with technology skills to pursue careers in government.
If you're a member of Gen Z with a passion for public service and a flair for marketing, social media, or design and you are eighteen (18) years of age or older, we're asking you to inspire people with technology skills to pursue career opportunities in federal government.
The top two winners will each receive a $10,000 cash prize. Two runners-up will each receive $2,500. Up to six honorable mentions will each receive $500.
We need your vision and ideas—help us level up government and set the course of our future.
LevelUp Gov Info Session
The Volcker Alliance's LevelUp Gov Team explains the contest is and how to create a submission. Watch this webinar for tools and tips to help you with your entry and hear responses to some frequently asked questions.
How to Enter
Contest entries must include the following three (3) components:
Core message and reasoning;

One (1) proposed LinkedIn post that brings this message to life; and

One (1) proposed post for one social media channel of your choosing, including Twitter, Instagram, YouTube, TikTok, Snapchat, or another platform.
Detailed instructions for completing each component appear below.
NOTE: Do not publish your posts on social media. The contest is not endorsed, sponsored, or administered by any governmental agency or department. The Department of Transportation and Department of Energy are not affiliated with this contest and winning the contest does not guarantee that your submission will be used by them or any other governmental agency.
What might a submission look like? Two examples:
Where does the federal government need people with tech skills?
The federal government needs tech talent all over. There's especially strong need in the key agencies tasked with tackling the climate crisis and upgrading our nation's infrastructure. Two agencies with immediate hiring needs for tech talent are the Clean Energy Corps and Department of Transportation. You will be preparing content for one or both of these agencies.
Why does the Clean Energy Corps need people with tech skills?
The Department of Energy recently launched the Clean Energy Corps, an innovative effort to turbocharge the fight against climate change by hiring 1,000 government workers who can implement the historic $62 billion in clean energy investments from the Bipartisan Infrastructure Law. They need people with tech skills.
When does the contest close?
LevelUp Gov closes on February 6, 2023, at 11:59pm PST. You can submit your proposal at any time and make changes up until the deadline.
The top two winners will each receive a $10,000 cash prize. Two runners-up will each receive $2,500. Up to six honorable mentions will each receive $500. To maximize the strength of your submission, read the judging criteria included in the contest information packet.
Where else can I find answers?
Click here to access the full contest information packet. If you represent a college course or student group, you are welcome to email LevelUpGov@volckeralliance.org to request a short virtual presentation on participating in LevelUp Gov. We will accommodate if possible.

The LevelUp Gov Marketing Challenge is an initiative of the Volcker Alliance, supported by Schmidt Futures. The Volcker Alliance is a nonprofit founded by former Federal Reserve Board chairman Paul A. Volcker dedicated to advancing his vision of an empowered public sector workforce. Schmidt Futures is a philanthropic initiative founded by Eric and Wendy Schmidt that bets early on exceptional people making the world better.