William Glasgall Spoke at Key Conferences this Fall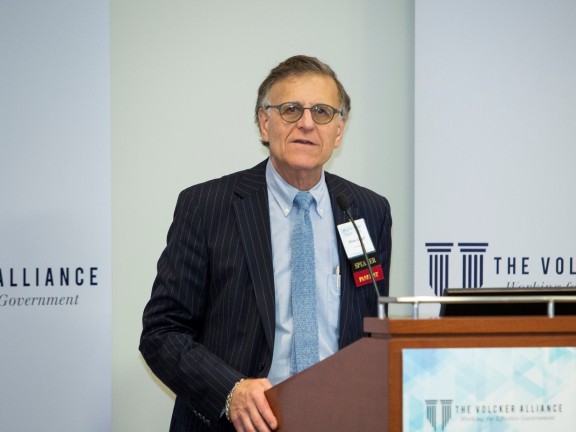 The Volcker Alliance's William Glasgall, Senior Vice President and Director of State and Local Initiatives, spoke at three conferences in Georgia, New Jersey, and New York. Topics ranged from public sector funding and financing, state budgeting practices in New Jersey, and economic issues facing the state of New York.
Infrastructure Dialogues Conference
Dates: November 13 – November 14, 2018
Location: The Historic Academy of Medicine at Georgia Tech in Atlanta, GA
Details: Mr. Glasgall joined a panel to analyze public funding and financing of public assets. The purpose of the conference was to address the many infrastructure issues facing the nation.
Listen to Mr. Glasgall discuss deferred maintenance on infrastructure and other public assets, a lack of transparency by states, and financing maintenance projects.
William Glasgall Speaks at Georgia Tech's Infrastructure Dialogues Conference from Volcker Alliance on Vimeo.
Rutgers Annual Governmental Accounting & Auditing Update Conference
Date: November 29, 2018
Location: Douglass College Center at Rutgers University in New Brunswick, NJ
Details: Mr. Glasgall presented key insights on the Alliance's Truth and Integrity in State Budgeting report, also spotlighting the budgeting practices of New Jersey.
The Most Important Fiscal and Economic Issues Facing New York State
Date: December 17, 2018
Location: SUNY Global Center in New York, NY
Details: Mr. Glasgall lead the breakfast program at the conference, discussing fiscal challenges for the state of New York. The conference was hosted by the Citizens Budget Commission.

Watch Mr. Glasgall's opening presentation, where he breaks down the new Truth and Integrity in State Budgeting report, as well as New York's economic issues and budgeting practices.
William Glasgall Explains New York's Economic Issues and Budgeting Practices at Citizens Budget Commission Conference from Volcker Alliance on Vimeo.