Volcker Alliance Partners with Opportunity@Work on STARs Public Sector Hub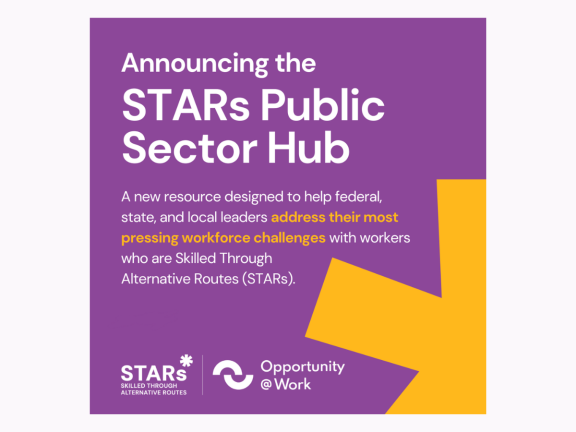 The Volcker Alliance is partnering with Opportunity@Work, the State of New Jersey, the State of Utah, the US Department of the Treasury, the Iowa Office of Auditor of State, An America United, The Brookings Institution, and Grads of Life on the new STARs Public Sector Hub. The Hub will help federal, state, and local leaders implement hiring practices and advance talent pipelines by hiring workers who are Skilled Through Alternative Routes (STARs). This builds on Opportunity@Work's existing work in the public sector addressing pressing workforce challenges.
"A growing body of research indicates that governments are leaving talent on the table by prioritizing degrees in the hiring process. Opportunity@Work's new STARs Public Sector Hub is translating that research into action, and will help city, state, and federal government partners attract the talent required to deliver the services citizens depend on," said Sara Mogulescu, president of the Volcker Alliance.
Read the full press release here and visit the STARs Public Sector Hub page to learn more.