Ross and Morrissey Hit the Road to Address the Future of Public Service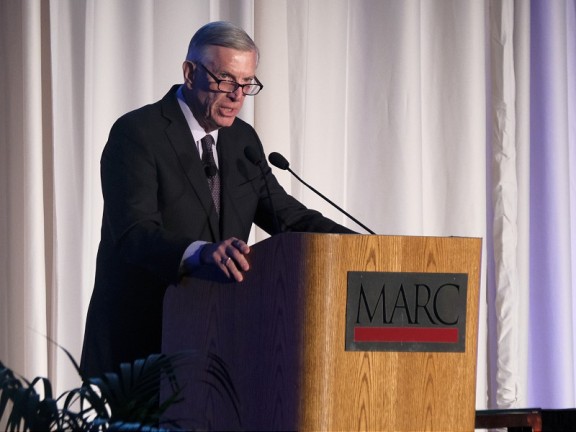 In June, Volcker Alliance President Thomas W. Ross and Project Manager Peter Morrissey traveled to Kansas City, Missouri and Chapel Hill, North Carolina, respectively, to call for increased regional collaboration between universities and government practitioners as a way to restore public trust in government and increase the talent pipeline of young people into government.
On June 11, Mr. Morrissey served on a roundtable at the 2019 Public Management Research Conference, held at the University of North Carolina Chapel Hill School of Government. The roundtable discussed approaches to narrowing the academic-practitioner divide in public administration and management research. In addition to Mr. Morrissey, the roundtable included a diverse set of participants representing institutions like the Center for Applied Behavioral Science, the National Academy of Public Administration, and the US General Services Administration. Mr. Morrissey and the other discussants gave actionable recommendations for how scholars seeking to partner with government agencies can go about doing so.
On June 14, in Kansas City, Missouri, Mr. Ross keynoted the Mid-America Regional Council's (MARC) 23rd Annual Regional Assembly and Leadership Awards. Each year, these awards honor people and organizations that address regional challenges, apply innovative solutions to regional problems, and advance a regional vision of excellence and opportunity. Mr. Ross's keynote was on "The Imperative of Public Service: Regional Action with National Impact." He discussed the critical role that governments at all levels play in securing the wellbeing of society and the need for collaboration from all sectors to sustain a public service that can meet the challenges facing American communities. The Volcker Alliance's Government-to-University Initiative, launching this year in Kansas City in partnership with MARC, is one such effort.
The Volcker Alliance hopes that discussions such as these spark further important conversations about increasing structured, regional collaborations between governments and universities and strengthening the talent pipeline into government.