GEAR Center Challenge Pilot
We know the more government can collect, manage, analyze, and lead with quality data, the better the results. Our GEAR Center Challenge pilot, launched this fall, will train federal practitioners to improve the use of data for decision-making and accountability, including for policy-development, innovation, oversight, and learning.
In September 2019, the Volcker Alliance, Centers for Civic Impact at Johns Hopkins University (Civic Impact), and the Mid-America Regional Council (MARC) won the Government Effectiveness Advanced Research (GEAR) Center Challenge grand prize. The $300,000 prize was awarded by the US General Services Administration (GSA) and the Office of Management and Budget (OMB) and will support a collaborative effort to train 250 federal practitioners in the Kansas City region in data management, analytics, and communicating with data. The award represents an investment in leveraging data as a strategic asset and developing a talented and prepared federal workforce for the 21st century.
Over the course of the year-long collaboration, partners will:
Develop a customized training curriculum designed to help federal practitioners better use data to make decisions that facilitate achievement of core agency aims;
Deliver the training curriculum to 250 federal practitioners in the Kansas City region; and
Document recommendations regarding the most promising strategies for sustainability and scale, both in the Kansas City region and nationally.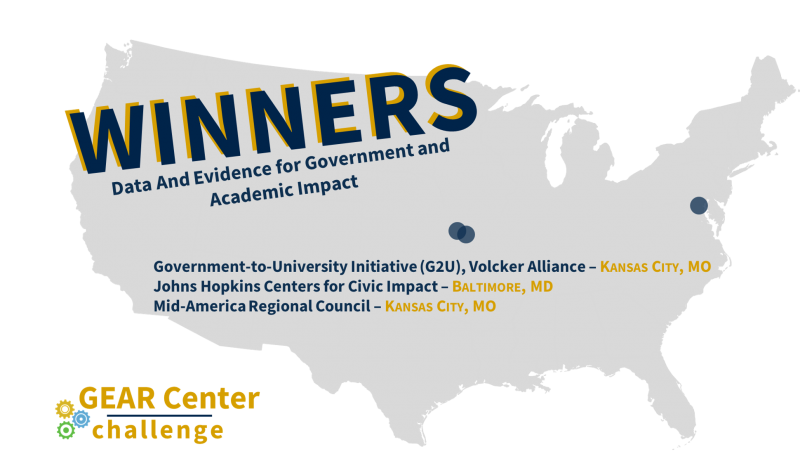 Working with more than 140 governments and over 4,000 government practitioners to date, Centers for Civic Impact at Johns Hopkins University has amassed a wealth of information about best practices for data use and management in the public sector at the municipal level. This collaboration creates an opportunity for Civic Impact to leverage its unparalleled expertise to tailor a training curriculum for the federal workforce.
The Mid-America Regional Council (MARC), through its role as lead agency in the Volcker Alliance's Government-to-University Initiative (G2U) in Kansas City, will work closely with local partners and the Greater Kansas City Federal Executive Board to drive implementation on-the-ground, recruit federal practitioners, and identify best practices to inform future training efforts.
In this effort, the Volcker Alliance will provide overarching project management and coordination, and collect and document lessons learned by the partners regarding strategies for sustainability and scale.
We convened a kick-off meeting for the GEAR Challenge Pilot Program in Kansas City in October 2019 to surface insights about acute needs and opportunities for federal agencies in the Kansas City region. Twelve different federal agencies were represented at the meeting, and they all expressed enthusiastic interest in participating in the Pilot Program and in scaling the initiative in the future.
We will begin our work with the first cohort in January 2020. The federal agencies participating in the first training include the:
Federal Emergency Management Agency
Internal Revenue Service
Social Security Administration
Occupational Safety and Health Administration
US Department of Housing and Urban Development
US General Services Administration
US Office of Personnel Management