The success of our nation's response to the historic challenges we face hinges in large part on the talent, preparedness, and dedication of our government workforce. The Volcker Alliance is working to inspire young people to enter public service and connect them with jobs in government.
Government-to-University Initiative (G2U)

Launched in 2019, the Volcker Alliance's Government-to-University (G2U) initiative demonstrates that bringing government and university leaders together is a powerful way to strengthen government's ability to deliver on its mission. G2U is an innovative approach to addressing critical governance challenges by building structured regional networks of governments and universities. Government-university partnerships are particularly important with government bandwidth severely reduced, unemployment surging, tax revenues plummeting, trust waning, and the skills needed in government changing rapidly.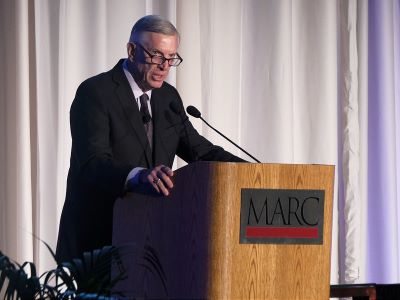 G2U's focus on the public sector talent pipeline has struck a chord with many in both government and higher education. In Kansas City, the first of our G2U networks, a Regional Coalition was formed that has engaged over one hundred stakeholders from at least twenty-five government, university, and civic institutions. The Coalition has arranged events, panels, and networking opportunities for college students in the Kansas City region to engage directly with public sector employers; it is also connecting municipal employees to data management training opportunities.
Throughout 2019, we worked with partners across the country to develop G2U networks. G2U is now active in Pittsburgh, Los Angeles, Chicago, and North Carolina. With universities, governments, and the job market undergoing massive transformations, the opportunity for collaboration and learning across the G2U network is tremendous. G2U is positioned to play a powerful role in reshaping the future of government.
Paul A. Volcker Careers in Government Essay Contest

The Volcker Alliance held the inaugural Paul A. Volcker Careers in Government Essay Contest, in partnership with the City University of New York, to recognize students who want to pursue a career in public service. A central goal of the contest is to better understand what motivates students to choose a career in government. It also aims to raise student awareness about the opportunities that come with working in public service, including mission, impact, job security, and pathways for advancement.
The contest asked students to describe their vision for effective government and motivation for pursuing public service careers. From over one hundred essay submissions, we selected two winners: Arslan Mohamed, a biomedical sciences student working toward his MD who aspires to be a public health leader; and Jason Waitkus, a forensic psychology and criminology student with a passion for criminal justice reform. Each of the two winners received:

In planning and working towards a better future, the ability to ensure an expansive and inclusive scope in policies, the proper training of government officials as liaisons with the public, and the courage to think outside the box are key aspects of effective government. In my pursuit of becoming a physician at the helm of a public service career, I intend to emulate these qualities through my work.
Arslan Mohamed, 2019 Essay Contest Winner
To be effective, government must be constantly working, interacting with the public to understand the public's needs and beliefs and conducting research in order to find solutions. Effective government must be filled with people who can listen, learn, and compromise, in both elected and appointed positions.
Jason Waitkus, 2019 Essay Contest Winner