Paul A. Volcker (1927–2019) was renowned for his lifelong dedication and commitment to the public good. His legacy continues each day to inspire the work of the Volcker Alliance.
Paul A. Volcker Careers in Government Essay Contest

The Alliance hosted the second Paul A. Volcker Careers in Government Essay Contest in 2020, in partnership with the City University of New York. The aim of the contest is to promote student awareness of the opportunities attached to a career in public service, including positive impact, innovation, and pathways for advancement. The two essay contest winners, Jungah Ahn, a computer science and mathematics student at Hunter College, and Evana Said, an architecture and legal studies student at The City College of New York, were selected from a competitive pool of nearly 150 submissions.
"This year's events have not merely highlighted disparities but have deeply rooted within me, as well as millions of others, the importance of a participatory government. We cannot expect a government that does not involve us to recognize or help us. An effective government creates a space for widespread engagement from those with diverse life experiences, careers, and skillsets."
Evana Said, 2020 Winner of the Paul A. Volcker Careers in Government Essay Contest
Paul A. Volcker Career Achievement Medal

In October, Dr. Ira Pastan received the Paul A. Volcker Career Achievement medal for his discoveries and innovations in cancer treatment as a distinguished investigator at the National Cancer Institute. The medal, supported by Ray and Barbara Dalio, is presented annually to a public servant who has demonstrated leadership and excellence in at least twenty years of government service. The award is presented as part of the Samuel J. Heyman Service to America Medals.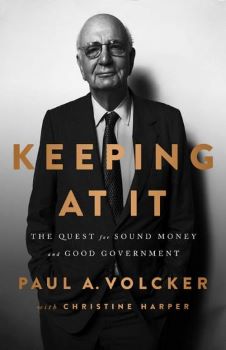 In honor of Mr. Volcker's belief that public service schools have a singular capacity to strengthen the public sector workforce and help solve the great problems of our time, his wife, Anke Dening Volcker, and longtime adviser Anthony J. Dowd generously gave copies of his memoir, Keeping at It: The Quest for Sound Money and Good Governance, to students in such schools.

Public Service and Good Governance for the Twenty-First Century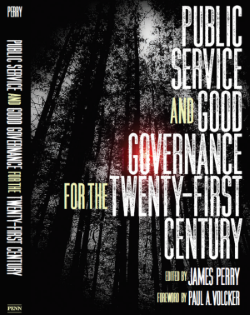 The Volcker Alliance also announced the publication and release of Public Service and Good Governance for the Twenty-First Century. The book, with a foreword from Mr. Volcker and edited by James L. Perry, distinguished professor emeritus in the Paul H. O'Neill School of Public and Environmental Affairs at Indiana University, offers recommendations for developing public leaders through higher education, creating a federal civil service to meet future needs, and rebuilding bipartisanship to restore good government.